Join the thousands of parents already raising smarter, happier babies with our online baby classes: The Active Babies Smart Kids series. Click here.
GymbaROO-KindyROO kids are excelling academically, emotionally, in leadership roles and on the sporting field. Find us at: GymbaROO-KindyROO
Thinking about buying a new pram? Then you need to read this! Parents who place their newborn babies into strollers with sloping backs may be unknowingly putting their child's health at risk.
Auckland osteopath Julia Griffiths said the fashionable three wheeled, all terrain buggies did not provide a flat surface and in many instances put the baby in a scooped position.
"They [health officials] make you worried about cot death, but how many know that you must have your baby lying flat?" Recent research confirms that there is a range of possible health effects from babies not lying flat, including obstructing breathing, digestion problems and affecting vertebrae shape. Read more here.
Griffith's concerns are backed by a study, which included National Women's Hospital consultant paediatrician Simon Rowley, which showed that babies had more difficulty breathing in car capsules. They compared x-rays of babies' airways in and out of capsules and found breathing was inhibited in the scooped position. "One of the problems with a curved back is it compromises the airway".
Griffiths said many babies spent a lot of the day in a 'squashed' position, going from the scooped pram to a car seat and in some instances staying in a car capsule. "It is ideal to lie babies flat until they have the muscle tone to hold themselves upright, which can take more than six months," said Griffith. She also warns that the pram's alignment could affect the baby's digestion and questioned a possible link between this and colic.
Griffith continues, "It is also important that a baby's movement not be inhibited. When babies are six to eight weeks, there's lots of turning and possibly rolling. If babies do not get these movement experiences, it's going to affect growth, muscles and neurological links. This is the time in a child's life where there is the most change in development happening. I think we are doing our babies a disservice." Learn how to get your baby moving in the best way for their brain development with GymbaROO-KindyROO's online videos here.
Griffith mentions one research paper that discusses effects on the spine's memory pattern. "When we are a baby, our first few months of life help create a memory pattern in the spinal cord." She believes pram makers should warn consumers of the importance of horizontal placement. "While manufacturers say they are making the prams in response to consumer demand that is unfair as the consumer is not being informed about the dangers of the buggy." (Reprinted with permission. Anna Chalmers, author. Fairfax Sunday Newspaper, a division of Fairfax New Zealand Ltd. All rights reserved)
More recent research into baby buggies focuses on the emotional development of babies. This research has found that children in front-facing varieties are significantly less likely to talk, laugh and interact with their parents than those in buggies that face the pusher, according to the research. The study was published by the National Literacy Trust for its Talk to Your Baby campaign in 2007. It includes an observational study of more than 2,722 parent-infant pairs across the country, carried out by Suzanne Zeedyk, of Dundee University's School of Psychology.
Some 62% of the babies were in away-facing buggies, as were 86% of toddlers. Parents using face-to-face buggies were more than twice as likely to be talking to their child. In another smaller study, 20 babies were wheeled in buggies across a one-mile stretch. Half the journey was spent in an away-facing buggy and half in a parent-facing one.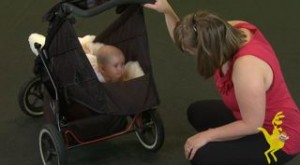 The results suggested that babies' average heart rates fell slightly in a parent-facing buggy, and babies were also twice as likely to fall asleep in this orientation, suggesting they may be more stressed when in away-facing buggies. Mothers and infants also laughed more often in face-to-face buggies. Only one baby in the group of 20 laughed during the away-facing journey, while half laughed during the face-to-face journey.
Zeedyk emphasised that the study was small and required further investigation, but said: "If babies are spending significant amounts of time in a baby buggy that undermines their ability to communicate with their parent, at an age when the brain is developing more than it will ever again, then this has to impact negatively on their development. Our experimental study showed that, simply by turning the buggy around, parents' rate of
talking to their baby doubled."
So, when you purchase your next pram, apart from size, price, colour and practicability there are important developmental considerations to take into account!
What to look for in a pram
The part of the pram on which the baby lies must be completely flat (nearly flat is not OK). It can still be adjustable, so once your baby is sitting herself up (and has the parachute reflex to the side), you can adjust the base to a sloping position. Being able to adjust down for sleeping, even for an older baby is best.
The pram must have plenty of room for the lying baby to wiggle, stretch arms and legs and roll their body from side to side.
The baby ideally needs to be facing you. As long as your baby is not moving forward and is awake, they can ride on their tummies in these flat prams.
Of course, your baby should not spend hours each day in a pram. While a pram ride is fantastic for vestibular and visual stimulation, and will help settle most cranky babies, it does restrict movement.
If you are traveling to a destination and it is safe to do so, take your baby out of the pram, spread a rug on the floor and let her play on her tummy. This is by far the most important part of her day. Space and the freedom to move are essential for healthy development. See our free GymbaROO-KindyROO video on tummy time here.
Active Babies Smart Kids – Online Baby Classes
GymbaROO-KindyROO's online series of baby classes is taking the parenting world by storm! It is highly recommended by doctors, paediatricians, early childhood experts and the Maternal Child and Family Health Nurses Association. This series is being called: "The essential guide for parents". Join the thousands of parents already playing with their babies from birth, in the best way for brain and body development and laying crucial foundations for future learning. What happens in the first year, not only matters, it matters a lot!
Active Babies Smart Kids online baby classes – Click here.
Try the first class FREE! Click here to watch our Active Babies Smart Kids Episode 1 – Tummy Time 
Dr Jane Williams (PhD, BMgt, RN(Paeds)) is the Research and Education General Manager for GymbaROO and KindyROO. Dr Williams is one of Australia's leading experts on baby and child development. More on Dr Williams here.
GymbaROO-KindyROO
Thousands of parents, babies and children are presently involved in our programs and creating rising stars. GymbaROO-KindyROO kids are excelling academically, emotionally, in leadership roles and on the sporting field. Come join all the fun and learning! "GymbaROO – The best decision I ever made for my child." Classes from 6 weeks old – 7 years GymbaROO KindyROO 
Enjoy the following GymbaROO-KindyROO articles
GymbaROO-KindyROO: Who, what, where, why and how
Why GymbaROO-KindyROO kids excel – academically, emotionally, socially, in leadership roles and in sport
All about GymbaROO-KindyROO's online baby classes for parents and babies: Active Babies Smart Kids
How to raise a smarter, happier baby
Why active babies make smart kids
Become a GymbaROO-KindyROO franchisee
It takes only one hour during pregnancy to make a massive difference to your baby's future intelligence and happiness
An important warning for all parents of babies.
Positioning baby to prevent a flattened head shape.
'Baby Seat' devices  like 'The Bumbo' and propping your baby to sit. Please avoid.
Tummy time. Free online video.
Does Playing Music to Babies In Utero Help their Brain Development?
Baby milestones: A journey, not a race.
Overstimulation. Is your baby at risk of sensory overload?
Why crawling and creeping matter.
Please do not sit me until I do it by myself.
NAPLAN results improve with LESS reading and maths and MORE GymbaROO.
GymbaROO-KindyROO: What parents say.
Click here for more GymbaROO-KindyROO article choices
Save
Save