Join the thousands of parents already raising smarter, happier babies with our online baby classes: The Active Babies Smart Kids series. Click here.
GymbaROO-KindyROO kids are excelling academically, emotionally, in leadership roles and on the sporting field. Find us at: GymbaROO-KindyROO
Dr Jane Williams and Bindy Cummings
At GymbaROO-KindyROO we place a great deal of importance on the developmental benefits of nursery equipment. Not all nursery furniture or 'nursery items' are equal when it comes to developmental considerations. Sifting through the marketing spiels and drilling down to 'what's developmentally best for my baby' can be hard work. The following information will make that task easier.
Bassinets and cots
To help with visual and auditory development, purchase bassinets and cots that you can move around the room. In varying positions your baby will be stimulated visually by different light and he will hear sounds at different volumes. The bassinette can be moved often, however once a month (until nine months of age) is enough for heavier cots. Frequently change the position of your baby in the cot. This will help him use each eye and ear when experiencing light and sound from varying directions. Place a dim night light in the room so your baby can practice pointing his eyes at an object when awake.
Change tables/Change station
Your change table needs to be steady. The firmer, wider varieties allow more room for a little massage and exercise each time you change bub. Keep some organic massage oil handy. Once babies are rolling over or mobile they are near impossible to keep still during a nappy change, this is not a bad time to move your change station to the floor!
Mobiles
Mobiles provide excellent visual stimulation, helping the development of depth perception and the ability to judge distances. Because babies are fascinated and get excited by mobiles, they also stimulate movement.  As your baby reaches out with hands and feet, she is developing gross and fine motor skills, hand-eye and foot-eye coordination. Find or make a mobile that allows you to change the dangling toys so your baby doesn't get bored.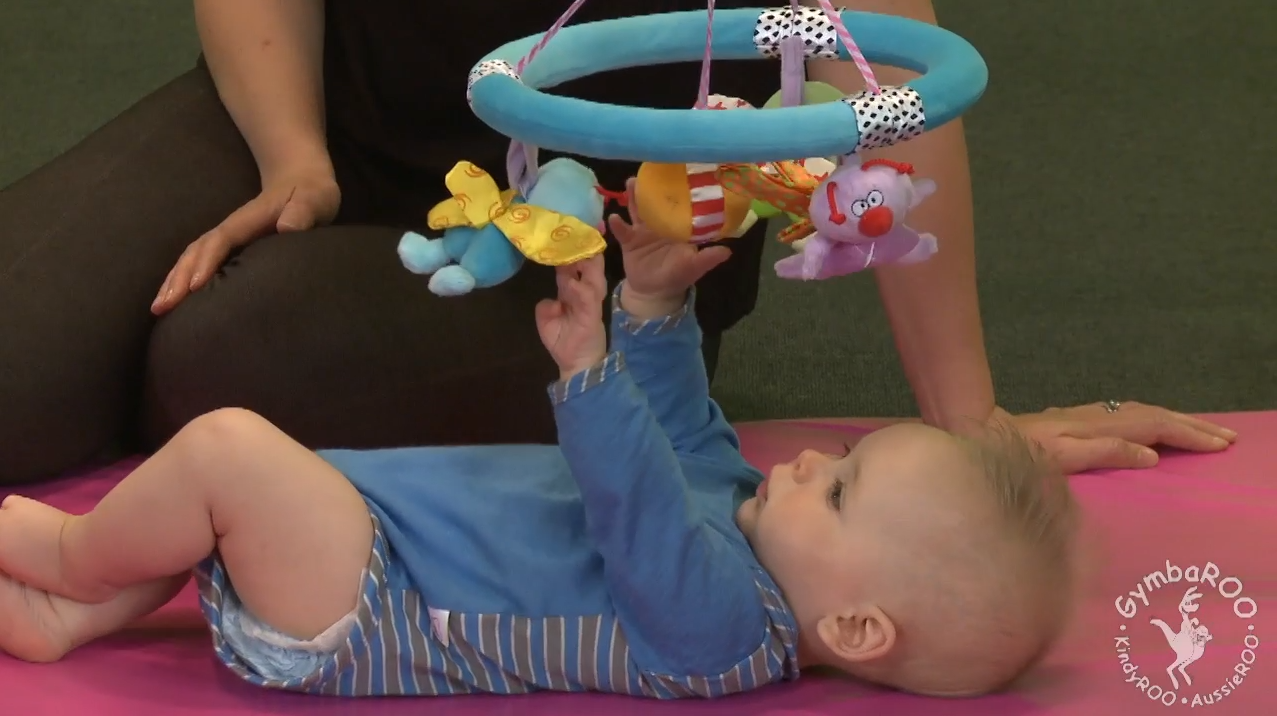 In the early weeks, hang the mobile so it's about 30-80cm from your baby's eyes. They are learning to focus at a distance further than 10cm! Once your baby starts reaching out, move the mobile closer so she can practice directing her movements. Low hanging mobiles from cots or change tables are not a good idea once your baby is crawling as the temptation to stand up and try and reach it may end in disaster.
Mobiles can be hung above bassinets, cots and change tables. Change the position of the mobile fairly regularly.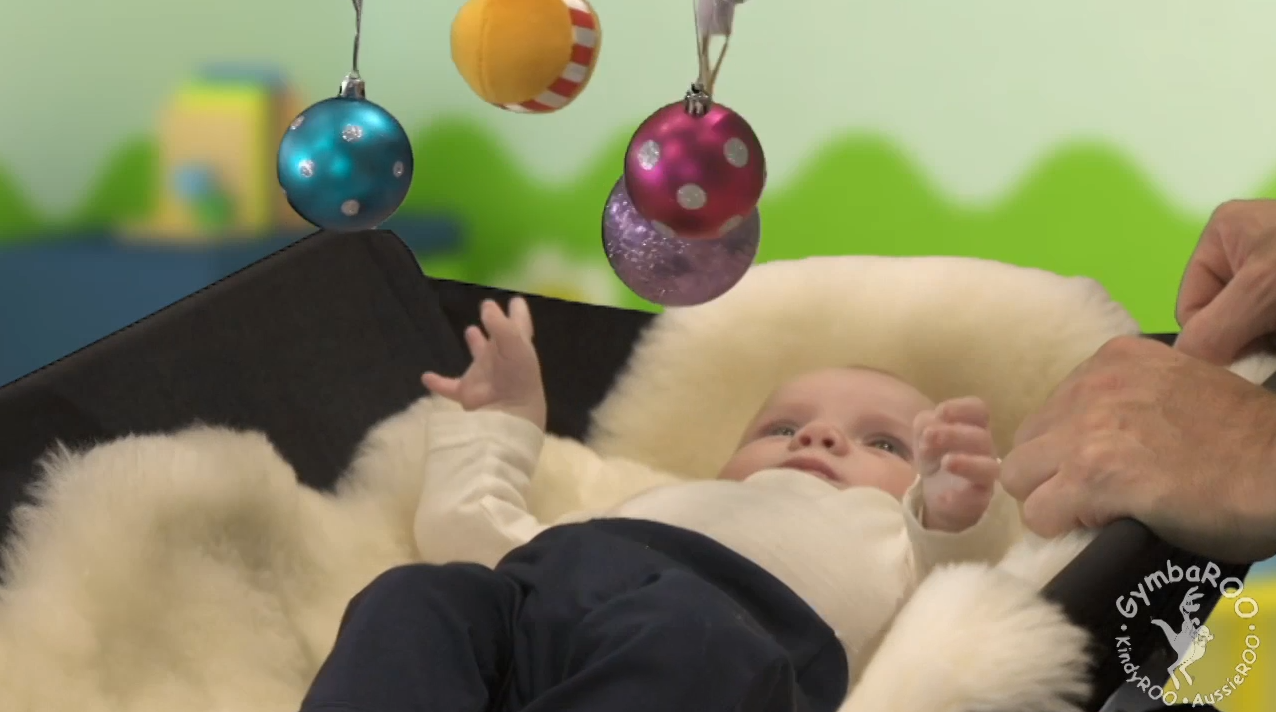 I have been to a few 'GymbaROO-KindyROO' family homes where the parents had screwed an eyebolt into a support beam in the ceiling above their change station. To this they tied a length of elastic on the end of which they hung an alternating array of objects of different shapes and sizes at varying heights above their babies; puffa balls, balloons, Christmas decorations, their mobile, dangly toys, rings, small balls in stockings and more. They also used this set up for tummy time fun and games. The babies in these families all grew up with exceptional hand-eye and foot-eye coordination. The bolt was also used to hang a baby hammock and later used for a trapeze! Note: Always supervise and ensure that the length of elastic or rope is completely out of reach of all children.
Rocking chair
Rocking chairs are not only relaxing when feeding, singing or reading to your baby, the gentle rocking motion encourages the development of his muscle tone, balance, kinaesthetic awareness and vision. For maximum developmental benefit, vary your baby's position when you rock. Ask your GymbaROO-KindyROO instructor how to do this or fine the information in our online classes: Active Babies Smart Kids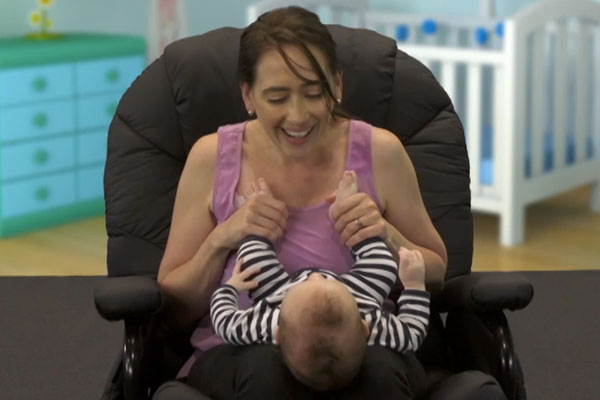 Sheepskin rug
Sheepskin or lambs wool rugs are beautifully tactile and stimulate your baby's hand and foot development.  They provide the perfect place to lay your baby for some tummy time, baby exercises and during baby massage.  They are portable and are made from completely natural fibres.
Box of massage feelies
Your young baby learns about herself and objects in her world largely through touch and feel. Vary your baby massage from time to time using bits and pieces that will provide your baby with a variety of tactile stimulation – items with different texture, surfaces, weight and size; a toothbrush, a baby hairbrush, a rolling pin, hair curlers, a sponge, balls, a small bean bag… the list is endless.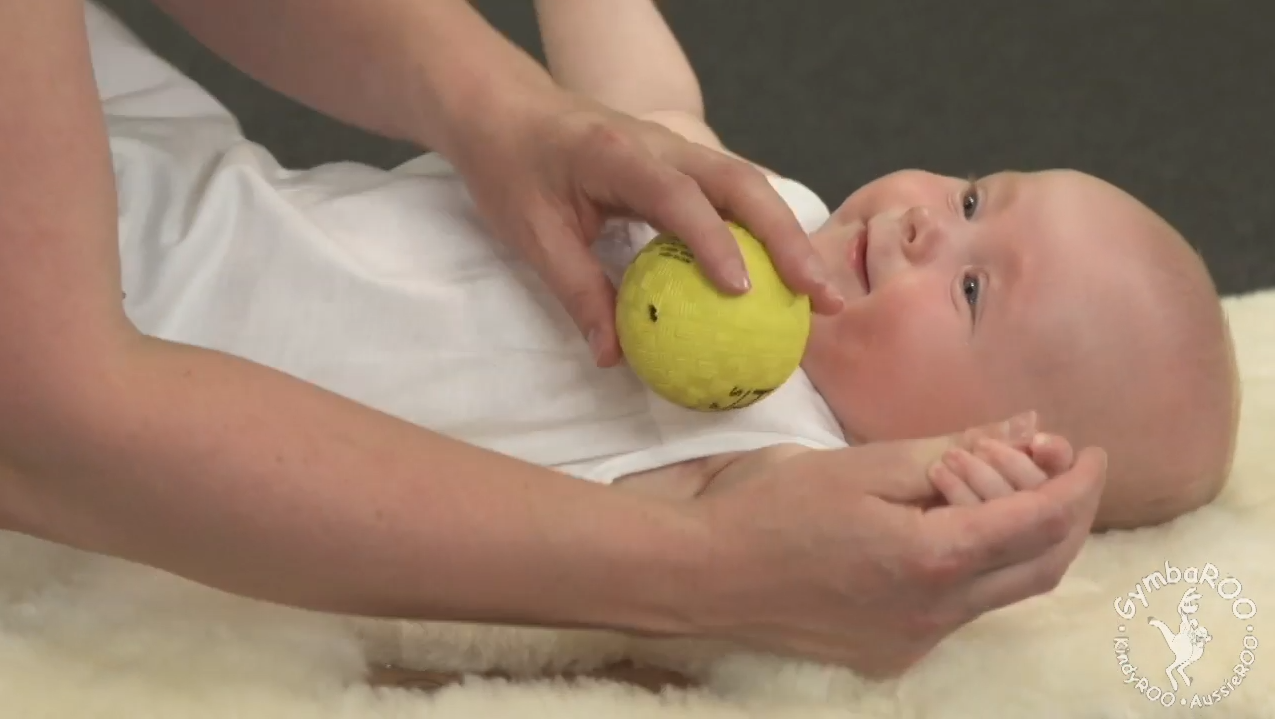 Playmat
These are a great way to keep your baby entertained and interested whilst on his tummy or back. Playmats encourage gross and fine motor development, the development of visual skills, hand-eye coordination, foot-eye coordination and more. Try to purchase one that has interchangeable toys and find a variety of safe and visually interesting items around the home to attach.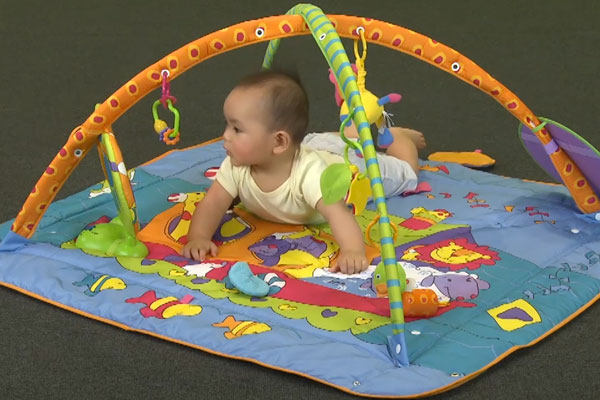 A gym ball
Rocking your baby on a large ball stimulates the vestibular system and helps develop muscle tone and visual skills. Hold your baby securely and rock gently in every direction. Start out with your baby only on his tummy, however as he gets older and stronger, you can progress to having him on his back and side. Ask your GymbaROO instructor how to do this or learn through our free online series: absk.com.au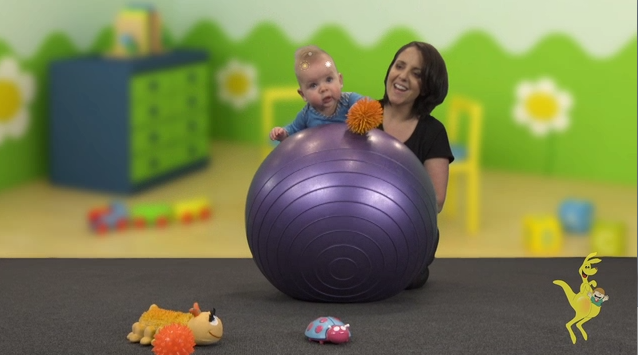 A small gym mat
A small mat like the GymbaROO-KindyROO ones. You have no idea how handy these can be all the way through your children's lives!  It is well worth buying a good one. On his tummy,  pull your baby slowly along the floor in a straight line, forwards and backwards. Gently swoosh from side to side and around in circles.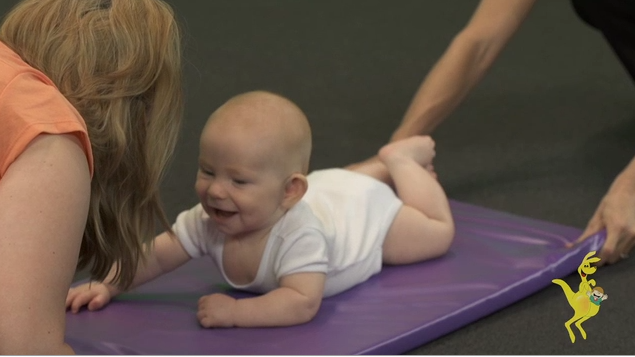 A place for toys
A sturdy set of low shelves attached to the wall is perfect for toys. Do not include any heavy toys as once your baby is mobile, everything will be pulled off the shelves regularly. Believe it or not, this is actually an important game for development! Babies are learning about timing and releasing in coordination with their eyes – the very important building blocks of throwing and catching. This is also true of learning to put the toys back on the shelves! Rotate toys constantly.
Toys
For non-mobile babies we recommend a pair of maracas or rattles, a small mirror for tummy time, a range of different sized textured balls, bubbles, squeaky toys, rings to hold, small blocks and other object that when banged together make a sound, bell socks that ring when babies kick their feet and toys with moving parts or that are shiny or noise-making, (these motivate a baby to get moving). Once your baby is mobile, also include toys that provide opportunities to post, push, pull, stack, hammer, poke and feel things of different weights, size, textures and colours.
What not to buy
There are a few pieces of nursery furniture that are NOT recommended developmentally. Click the following links to find out why. These include 'baby seats' (for example, The Bumbo), walkers, playpens and bouncinettes.  and we also strongly advise against any types of digital 'screen' for babies.
Note: Safety is an extremely important factor when choosing nursery furniture. Make sure you read all the safety instructions before using any items.
Dr Jane Williams (PhD, BMgt, RN(Paeds)) is the Research and Education General Manager for GymbaROO and KindyROO. Dr Williams is one of Australia's leading experts on baby and child development. More on Dr Williams here.
Bindy Cummings (B.Ed(Human Movement) Hons) has worked as a teacher, child development consultant, early childhood development lecturer, teacher trainer and INPP & iLS consultant. She is the co-creator of GymbaROO's Active Babies Smart Kids online series, has authored many published articles on child development. She is working on the content and development GymbaROO's portal and online training programs, and the creation of new online programs for parents and children. More on Bindy Cummings here.
All images from GymbaROO-KindyROO's online series of baby classes: Active Babies Smart Kids
GymbaROO-KindyROO
Thousands of parents, babies and children are presently involved in our programs and creating rising stars. GymbaROO-KindyROO kids are excelling academically, emotionally, in leadership roles and on the sporting field. Come join all the fun and learning! "GymbaROO – The best decision I ever made for my child." Classes from 6 weeks old – 7 years GymbaROO KindyROO 
Active Babies Smart Kids – Online Baby Classes
GymbaROO-KindyROO's online series of baby classes is taking the parenting world by storm! It is highly recommended by doctors, paediatricians, early childhood experts and the Maternal Child and Family Health Nurses Association. This series is being called: "The essential guide for parents". Join the thousands of parents already playing with their babies from birth, in the best way for brain and body development and laying crucial foundations for future learning. What happens in the first year, not only matters, it matters a lot!
Click here: Active Babies Smart Kids online series of baby classes 
Try the first episode FREE: Tummy time + baby fun and development class 1
Enjoy the following GymbaROO-KindyROO articles
GymbaROO-KindyROO: Who, what, where, why and how
Why GymbaROO-KindyROO kids excel – academically, emotionally, socially, in leadership roles and in sport
All about GymbaROO-KindyROO's online baby classes for parents and babies: Active Babies Smart Kids
How to raise a smarter, happier baby
What babies really want: Developmentally brilliant gifts for babies.
Baby milestones: A journey, not a race.
Why active babies make smart kids.
Tummy time for baby's healthy development.
Overstimulation. Is your baby at risk of sensory overload?
Doing this for ONE HOUR during pregnancy will make a massive difference to your baby's intelligence.
Positioning baby to prevent a flattened head shape.
Baby Development Classes. Why GymbaROO for Babies?
'Baby Seat' devices and propping your baby to sit. Please avoid.
Why creeping and crawling matter.
Click here for more GymbaROO-KindyROO article choices
Save
Save
Save
Save
Save
Save
Save
Save
Save
Save
Save
Save
Save
Save
Save
Save
Save
Save
Save
Save
Save