Join the thousands of parents already raising smarter, happier babies with our online baby classes: The Active Babies Smart Kids series. Click here.
GymbaROO-KindyROO kids are excelling academically, emotionally, in leadership roles and on the sporting field. Find us at: GymbaROO-KindyROO
Babies… Exercises? Really?
Absolutely.
From the earliest months after birth, baby exercise play an important role in healthy brain and body development and best of all, babies LOVE exercising and will love you for it!! Here are five excellent reasons to exercise your babies.
1. Your baby's health, now and in the future
Baby exercises develop strength and tone in your baby's big and small muscles. These activities encourage head control, balance and good posture, all of which are so important for later development and good health.
Lively movement and exercise enhances circulation, breathing, digestion and many other bodily functions. A regularly exercised baby will generally be a happy, healthy baby who should feed and sleep well.
Being active in infancy helps reduce the likelihood of paediatric obesity. It is as early as the first year that this problem starts for many children. The earlier you start your babies on the path to a physically active life, the more likely they are to continue being active throughout childhood and life.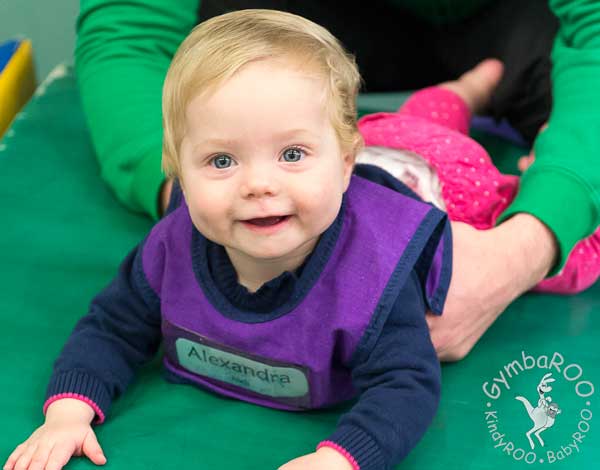 2. Your baby's brain growth and learning ability, now and in the future
Research confirms that:
The first year is the most important for brain growth and babies' brains grow through movement experiences.

Introducing the correct movement experiences into your baby's daily life from the earliest months will have a profound influence on the resulting brain growth and neurological organisation.

So, for babies, movement is the key to learning and baby exercise is an excellent way to promote brain growth and help your baby build solid foundations for a lifetime of learning. Read more.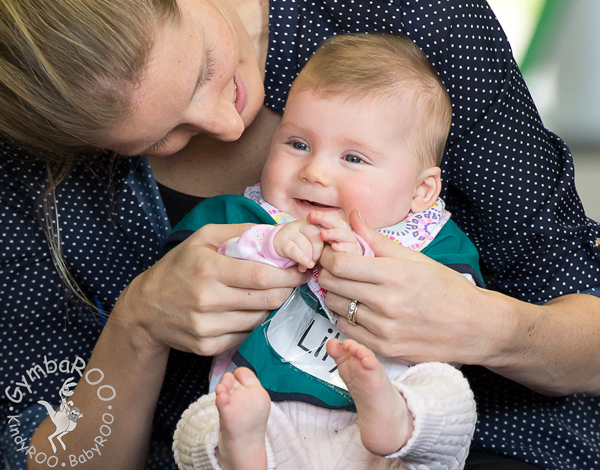 3. Your baby's coordination and sporting ability, now and in the future
Exercises help your baby move and learn to move. Each baby exercise encourages the development of 'body awareness' by sending messages to your baby's brain about their body parts and how they can move.
These early movement experiences help to lay the very important building blocks for more complex movements later on. The more developed your child's body awareness, the better will be his/her future body control, balance, coordination and sporting ability. Read more.
Babies and children who do not develop good body awareness, are at risk of becoming clumsy, uncoordinated and frequently under-achieving at school.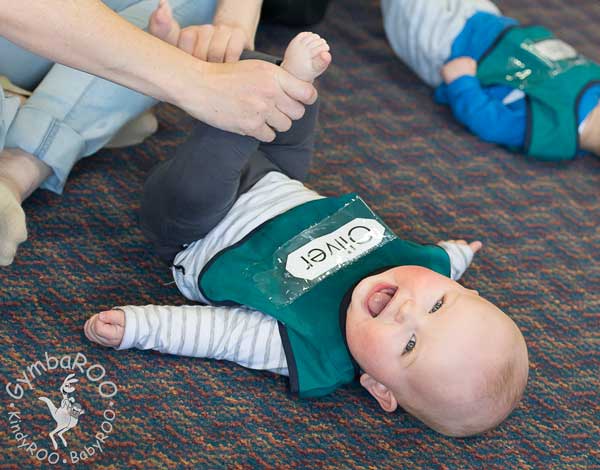 4. Your baby's rhythmic ability, now and in the future
So many areas of development and learning are influenced by our internal understanding of rhythm and time including; mathematics, pattern recognition, sequencing, speech and language, reading, writing, coordination, musical ability, social skills and more. By doing baby exercises rhythmically and regularly, you are promoting this internal rhythmic ability and helping to lay the building blocks needed for skill development in all these areas.
Babies love doing exercises rhythmically. Any type of music with a regular beat will do, as will singing or humming.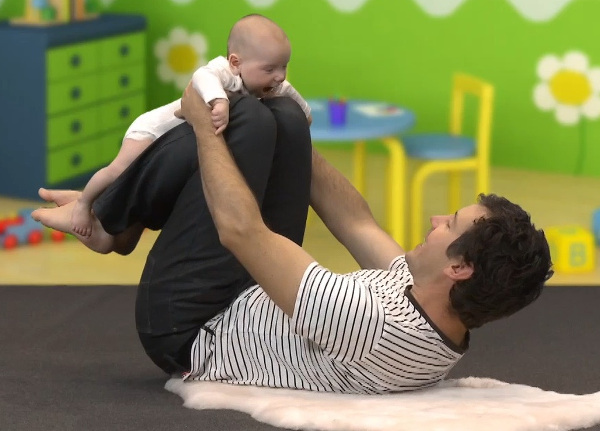 5. Your baby's happiness, confidence and self-esteem, now and in the future
While helping to build solid foundations for learning academically and physically with baby exercise, you are also promoting healthy emotional development. Success in learning leads to confident, happy children.
Baby exercise time fosters emotional security. It is a time of love, smiles, giggles and laughter, and because babies crave activities that are developmentally good for them, exercise time encourages bonding for baby and mum, dad, sibling or carer. All involved derive a great deal of joy from this special time together.
Here's how to exercise your baby!
Baby exercises are movements that every parent can do, they are easy and fun for both parent and baby.
At GymbaROO-KindyROO, exercises are an integral part of every class right from the babies through to the five year olds. We understand that not everyone can get to GymbaROO-KindyROO, so we have created an online series of baby classes for parents of babies, (newborn to crawling), called The Active Babies Smart Kids series. This series is highly recommended by professionals and many thousands of parents.
As well as hundreds of lovely baby exercises to do with your baby from birth, our online series also include the following important expert advice:
How to prepare for baby exercise.
When and when not to exercise your baby.
How long these exercises sessions should be.
How often to exercise you baby.
What exercises for what age.
The best type of music to use for baby exercise.
Active Babies Smart Kids – Online Baby Classes
GymbaROO-KindyROO's online series of baby classes is taking the parenting world by storm! It is highly recommended by doctors, paediatricians, early childhood experts and the Maternal Child and Family Health Nurses Association. This series is being called: "The essential guide for parents". Join the thousands of parents already playing with their babies from birth, in the best way for brain and body development and laying crucial foundations for future learning. What happens in the first year, not only matters, it matters a lot! Enjoy the introductory video below.
Click here: Active Babies Smart Kids online series of baby classes 
Try the first episode FREE: Tummy time + baby fun and development class 1
GymbaROO-KindyROO
Thousands of parents, babies and children are presently involved in our programs and creating rising stars. GymbaROO-KindyROO kids are excelling academically, emotionally, in leadership roles and on the sporting field. Come join all the fun and learning! "GymbaROO – The best decision I ever made for my child." Classes from 6 weeks old – 7 years GymbaROO KindyROO 
Bindy Cummings is a teacher, GymbaROO early childhood neurodevelopmental consultant and early childhood development lecturer. She is the Editor of GymbaROO's 'First Steps' magazine and online content. More on Bindy Cummings here.
GymbaROO Images by Studio Z Photography
Enjoy the following GymbaROO-KindyROO articles
GymbaROO-KindyROO: Who, what, where, why and how
Why GymbaROO-KindyROO kids excel – academically, emotionally, socially, in leadership roles and in sport
All about GymbaROO-KindyROO's online baby classes for parents and babies: Active Babies Smart Kids
How to raise a smarter, happier baby
Tummy time for baby's healthy development.
Baby milestones: A journey, not a race.
10 ways to give your baby a great start.
'Baby Seat' devices and propping your baby to sit. Please avoid.