Join the thousands of parents already raising smarter, happier babies with our online baby classes: The Active Babies Smart Kids series. Click here.
GymbaROO-KindyROO kids are excelling academically, emotionally, in leadership roles and on the sporting field. Find us at: GymbaROO-KindyROO
By Dr Jane Williams, Alice Brown and Bindy Cummings
While modern conveniences provide parents with lots of 'containers' into which babies can be placed, these very containers, which are designed to simplify our lives and protect our children are actually preventing our babies from getting the very experiences that promote healthy development.
From an early age babies need to be given plenty of space and freedom to move so they can take advantage of the natural reflexes with which they are born. These reflexes not only help the baby to survive the critical first months of life outside the womb, but also help get baby moving – if the right environment is provided!
Unfortunately, disturbing statistics are suggesting that, although children have an inherent desire to move, paediatric obesity and inactivity are on the rise in many countries. There are many factors that can be attributed to these statistics with two of these being:  the media and corporate companies preying on parents fear for child safety leading to what is now being termed the 'bubble wrapped generation'1 and the use of 'containers' as a convenient way of controlling children's movements and transporting them from one place to another.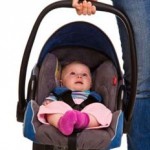 As part of everyday life babies are often confined to a variety of containers such as prams, car seats, bouncers, 'baby seats' and cots. Unfortunately, a child who is 'containerised' may be excluded from participating in sensory experiences and freely exploring the environment.  For example, a child may sit in a pram rather than enjoy the experience of playing on the grass, because of parental fears of choking on leaves, or allergies, etc. or a child may not be given tummy time whilst awake, due to concerns about sudden infant death syndrome (SIDS).  Factors such as these are leading to decreased levels of activity in very young children and contribute to a reduction in the time that they have to practice the building blocks of movement – fundamental motor skills – as well as learn about the world through their senses. Access our online baby development classes here.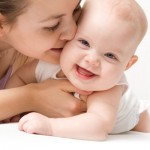 While some modern containers profess to help parents entertain and stimulate their children, they should be used very sparingly.  A baby in a bouncinette, for example, is limited to watching, rather than doing. His activities are limited to watching you move about, or playing only with a toy within reach. He has no opportunity to move and strengthen his head, neck, shoulder and arm muscles like he would if he was on the floor on his tummy. Jolly jumpers appear at first glance to be developmentally stimulating – but long term use usually means that infants are deprived of experiences that they need to learn to control their own environment and allow their inbuilt, natural reflexes to get them moving on their own. Watch our free online video on why tummy time is important, including  great tips and activity ideas here.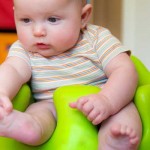 'Baby seat' devices such as The Bumbo Seat should be avoided all together. A baby who is forced into a sitting position, such as in these leg hugging, bottom securing 'baby seats', will not be able to move freely in this device and will be denied opportunities to develop the muscle strength necessary for crawling and creeping. More on why to avoid 'baby seat' devices here.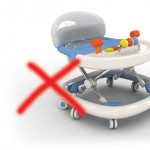 Walkers are just downright dangerous. Infants have no way of protecting themselves if the walker rolls down a set of stairs. If someone gives you a walker, say "thank you very much" – then take it out into the back shed and dismantle it, don't pass it on. Developmentally, walkers take the infant off the floor and into a position that does not promote the normal developmental sequence. Children who use walkers do not walk any earlier than children who do not. They just miss out on tummy time, some will skip crawling and creeping and much of the brain stimulation that these essential developmental skills promote. More on why to avoid walkers here.
Baby capsules, while an essential safety seat in the family car, also highly restrict a baby's movement. Car seats are a necessary part of car travel as every child must be restrained safely and securely however, when taken out of the car, these containers tightly restrict a baby's movements and can cause serious health risks. We recommended that you never let your baby sleep in capsules out of the car.  Also, because the car seat is at a 45 degree angle, it unfortunately means that an infant has little or no line of vision and this in turn can hinder the amount of information taken in about their world – limiting the amount of learning that occurs.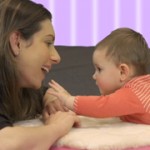 Babies are born to move and programmed to develop along a specific sequence of physical milestones and each stage provides them with the experiences necessary for the next developmental level of achievement.  Providing your baby with the opportunity to develop naturally is easy – all they need is a floor and some of your time for play.  We all love a few of the modern conveniences to make our lives easier and more enjoyable, but think twice before next using a 'container' – your child may be missing out on important opportunities to move and learn.
Active Babies Smart Kids – Online Baby Classes
GymbaROO-KindyROO's online series of baby classes is taking the parenting world by storm! It is highly recommended by doctors, paediatricians, early childhood experts and the Maternal Child and Family Health Nurses Association. This series is being called: "The essential guide for parents". Join the thousands of parents already playing with their babies from birth, in the best way for brain and body development and laying crucial foundations for future learning. What happens in the first year, not only matters, it matters a lot!
Active Babies Smart Kids BabyROO series – Click here.
Try the first class FREE! Click here to watch our Active Babies Smart Kids Episode 1 – Tummy Time 
1. Malone, K. (2007). 'The bubble-wrap generation: children growing up in walled gardens. Environmental Education Research, 13(4), 513 – 527
Dr Jane Williams (PhD, BMgt, RN(Paeds)) is the Research and Education General Manager for GymbaROO and KindyROO. Dr Williams is one of Australia's leading experts on baby and child development. More on Dr Williams here
Bindy Cummings (B.Ed(Human Movement) Hons) has worked as a teacher, child development consultant, early childhood development lecturer, teacher trainer and INPP & iLS consultant. She is the co-creator of GymbaROO's Active Babies Smart Kids online series, has authored many published articles on child development. She is working on the content and development GymbaROO's portal and online training programs, and the creation of new online programs for parents and children. More on Bindy Cummings here.
GymbaROO-KindyROO
Thousands of parents, babies and children are presently involved in our programs and creating rising stars. GymbaROO-KindyROO kids are excelling academically, emotionally, in leadership roles and on the sporting field. Come join all the fun and learning! "GymbaROO – The best decision I ever made for my child." Classes from 6 weeks old – 7 years GymbaROO KindyROO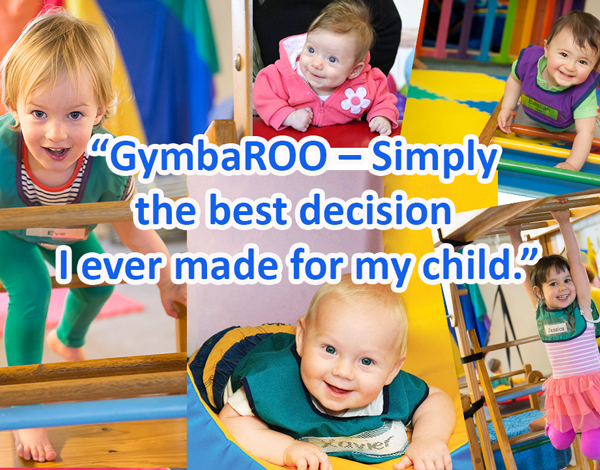 Enjoy the following GymbaROO-KindyROO articles
GymbaROO-KindyROO: Who, what, where, why and how
Why GymbaROO-KindyROO kids excel – academically, emotionally, socially, in leadership roles and in sport
All about GymbaROO-KindyROO's online baby classes for parents and babies: Active Babies Smart Kids
How to raise a smarter, happier baby
Why active babies make smart kids
Become a GymbaROO-KindyROO franchisee
It takes only one hour during pregnancy to make a massive difference to your baby's future intelligence and happiness
Tummy time for baby's healthy development.
Thinking about buying a pram? What you need to know.
Baby milestones: A journey, not a race.
Positioning baby to prevent a flattened head shape.
Overstimulation. Is your baby at risk of sensory overload?
Why creeping and crawling matter.
Please do not sit me until I can do it myself.
'Baby Seat' devices and propping your baby to sit. Please avoid.
Bare feet for babies: Catching colds, trimming toenails and tips for first shoes.
An important warning for all parents of babies.
Paediatric obesity is a massive problem. You can help make a difference.
What babies really want: Developmentally brilliant gifts for babies.
Click here for more GymbaROO-KindyROO article choices
Save
Save
Save
Save
Save
Save
Save
Save
Save
Save
Save
Save