Join the thousands of parents already raising smarter, happier babies with our online baby classes: The Active Babies Smart Kids series. Click here.
GymbaROO-KindyROO kids are excelling academically, emotionally, in leadership roles and on the sporting field. Find us at: GymbaROO-KindyROO
Vivien Mitchell and Bindy Cummings
Taking toddlers to the beach requires the expert planning of a logistician.  It's pretty much like acting out the Scouts' motto "Be prepared".  You've got to pack for wet, dry, hot and windy conditions, insects that sting and bite, hungry and thirsty kids, mini-scientist-kids and sand engineers, even budding marine biologists who like to collect things.  All of this before you even think about sun protection.
You've packed what seems to be enough kit for the entire neighbourhood and your mind returns to an essential aspect of a beach day: lobster-pink just isn't cool these days.  It's time to add the sun safe part of the beach tool-kit – hat, rashie, sunglasses, sunscreen, zinc or block-out.  We now understand that Australians' love of the beach, which is central to our enviable way of life, isn't as benign as we'd like. "Two in three Australians will be diagnosed with skin cancer in their lifetime, including the most deadly type – melanoma," says Craig Sinclair, Chair, Public Health Committee, Cancer Council Australia.
Kids are growing up with the sun smart message. They're part of the #SunSmartGeneration and with this week being National Skin Cancer Action Week, it's a great time to reinforce the message.
Here's what experts are saying about how to best protect our babies and kids
Cancer Council Australia's old campaign, Slip. Slop. Slap. has been updated to include five sun safe elements: Slip (shirt), Slop (sunscreen), Slap (hat), Seek (shade) and Slide (sunglasses).  However, according to its recent National Sun Protection survey, over half of Australians are confused about sunscreen – how much to apply and how often. There's also concern about sunscreen chemicals and if they're safe to use on children and babies. Associate Professor Schumack from the Australasian College of Dermatologists says, "we don't generally recommend widespread use of sunscreen in the first six months of life." He adds that, "The primary forms of sun protection should always be protective clothing, hats, shade and sunglasses for babies and children of any age. For older children, sunscreen can be used on the parts of the body not covered by clothing." More on sunscreen below.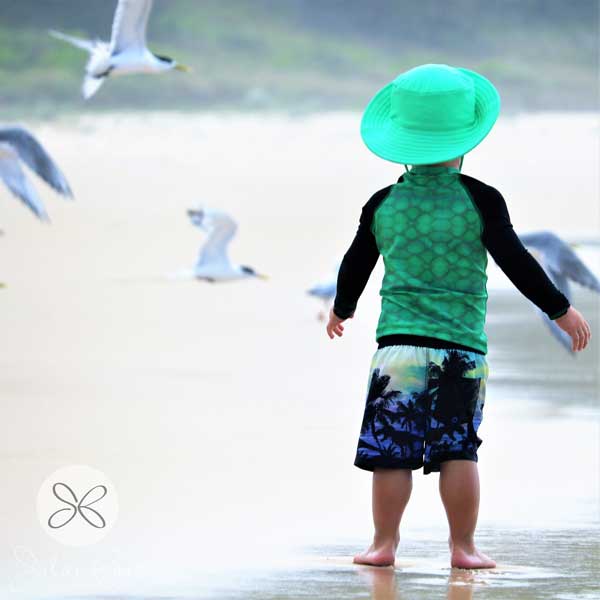 Sun wear
Sunwear is simply one of the most effective ways to minimise sunburn and protect our kiddies.  A rashie (rash vest) is a practical, convenient way to go. Think of it as a t-shirt with benefits. Quick-dry fabric and offering a high UPF, rashies cover arms and bodies. UV-protective clothing has got you covered; back, front and shoulders in one easy step!  Rashies are comfy, stretchy, sun and kid proof.  It's a quintessential Aussie look. Rashies eliminate the need for sunscreen in the areas they cover. Thankfully, days of the plain black rashie are long gone and you'll find a range of vibrant and playful prints and colours.  The kids can play sunsafe dress-ups in their fave print and it's so much easier to spot them on the sand. You and your kids can wear them from sand to street or beach to beach café.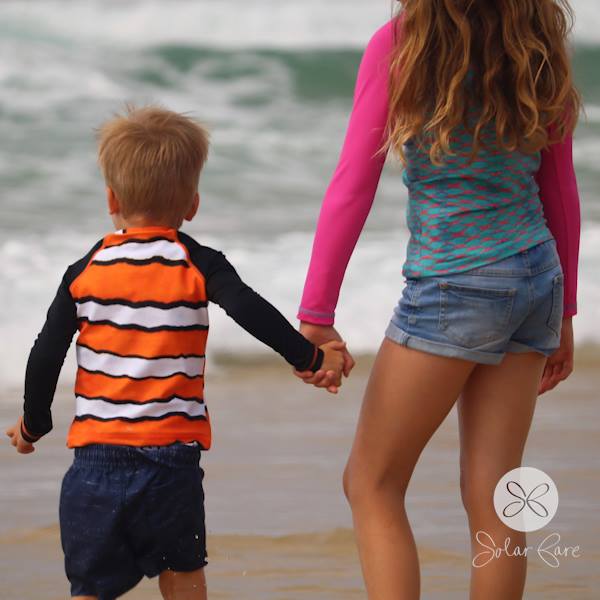 Shade
A retro beach umbrella is a great idea. We all know that the struggle is real and that beach umbrellas get kinda unwieldy – but don't give up, it's an important part of your beach kit. There are many light, fold away pop-up tents and umbrellas on the market.  And a quick beach hack; find some natural shade under a tree by the sand.
Sunshine and sun sense
Avoid the heat of day.  It's best to go outdoors in early morning or late afternoon, when the sun is lower. UV radiation peaks at midday, so look for longer shadows before you head outside. The most recent Sunsmart campaign advises to seek shade between 10am-3pm.
Sunscreen
Sunscreen is important and an essential item in the beach bag. However, with 53% of us confused about sunscreen use and 85% of Australians not applying enough, below are some key points to note.
There are two ways that a sunscreen can protect the skin from sun damage, with a mineral barrier or a chemical one. Mineral sunscreens use zinc oxide and/or titanium dioxide to create a physical barrier to protect from harmful UVA and UVB rays. Organic sunscreens fall into this category. Chemical sunscreens use one or more chemicals including; oxybenzone, avobenzone, octisalate, octocrylene, homosalate and octinoxate, to create a chemical barrier to block out harmful radiation.
How safe? Sunscreens in Australia are strictly regulated by the Therapeutics Goods Administration to ensure that the ingredients are safe and effective. There are however, claims that the chemicals raise concerns as they seem to be crossing into skin and other tissues. The Environmental Working Group (EWG) America, warns against using oxybenzone (most common sunscreen chemical), especially on children or pregnant/breastfeeding women and the Swedish Research Council deems oxybenzone to be unsuitable for children under the age of two, as children of this age have not yet developed the enzymes to break it down. If you would prefer to err on the side of caution, then use the mineral, synthetic-chemical-free sunscreens, but be warned, you need to reapply these more regularly than the chemical variety!
SPF50+ means 98% of all UVB rays are deflected. Also offers improved protection from ultraviolet rays. Cancer Council Australia recommends that for children over six months use a SPF30 or higher broad-spectrum, water-resistant sunscreen.
How often? Apply sunscreen at least twenty minutes before sun exposure to allow it to dry on the skin. Reapply every two hours or more regularly if exercising or swimming, using towels or using organic or mineral sunscreens.
How much? Dr Saxon Smith, an Australian dermatologist says, "We need to apply one teaspoon of sunscreen per limb and half a teaspoon for your face… seven teaspoons, or 35 to 40 ml of sunscreen, basically the size of a golf ball", to cover the body.
Note: Before broadly applying any new sunscreen to children, test on a small patch of skin, (thigh area is best). Check for any reaction over the next 24 hours. Do not use this sunscreen if there is a reaction.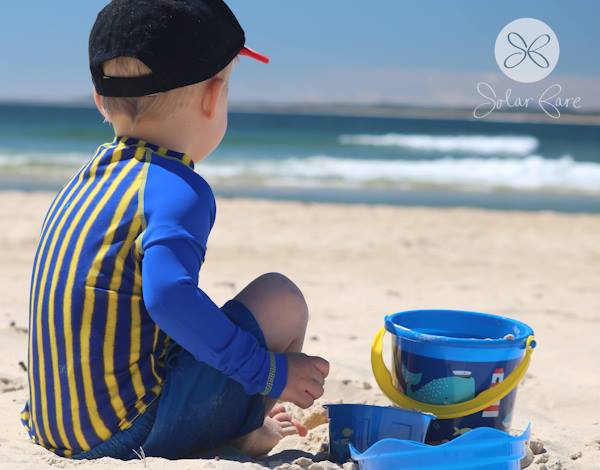 When the time comes to settle the kids into your patch of sand, hats on and you've rubbed all those little faces and legs with sun screen – really, it's quite like applying a liberal layer of fluid sand paper – the last thing in the world you feel like doing is getting tiny sandy hands to rub your face with sun block.  But that's what we do as parents.  We put a positive spin on it, and take the massage and exfoliation pampering any way it comes.  And we're already dressed for beach success in a stylish rashie, so happy days.
Vivien Mitchell  is the mother-of-five, a mummy blogger and was a GymbaROO parent (way back when). She is the founder and creative director of Solar Bare, a boutique sun wear label for beach-loving fashionistas. Through her original and vibrant reef-print designs, she seeks to help drive awareness of the importance of sun protection by making sun protection stylish and fun. Find the fabulous Solar Bare range of sun protection wear for women and children here.
Bindy Cummings is a teacher,  and early childhood neurodevelopmental consultant and early childhood development lecturer. She is the Editor of GymbaROO's 'First Steps' magazine and online content, and the co-creator of GymbaROO's Active Babies Smart Kids series. More on Bindy Cummings here.
Images: Solar Bare
GymbaROO-KindyROO
Thousands of parents, babies and children are presently involved in our programs and creating rising stars. GymbaROO-KindyROO kids are excelling academically, emotionally, in leadership roles and on the sporting field. Come join all the fun and learning! "GymbaROO – The best decision I ever made for my child." Classes from 6 weeks old – 7 years GymbaROO KindyROO 
Active Babies Smart Kids – Online Baby Classes
GymbaROO-KindyROO's online series of baby classes is taking the parenting world by storm! It is highly recommended by doctors, paediatricians, early childhood experts and the Maternal Child and Family Health Nurses Association. This series is being called: "The essential guide for parents". Join the thousands of parents already playing with their babies from birth, in the best way for brain and body development and laying crucial foundations for future learning. What happens in the first year, not only matters, it matters a lot! Enjoy the introductory video below.
Click here: Active Babies Smart Kids online series of baby classes 
Try the first episode FREE: Tummy time + baby fun and development class 1
Enjoy the following GymbaROO-KindyROO articles
GymbaROO-KindyROO: Who, what, where, why and how
Why GymbaROO-KindyROO kids excel – academically, emotionally, socially, in leadership roles and in sport
All about GymbaROO-KindyROO's online baby classes for parents and babies: Active Babies Smart Kids
How to raise a smarter, happier baby
An important warning for all parents of babies.
Bare feet for babies: Catching colds, trimming toenails and tips for first shoes.
Toilet training. When, why and how.
Storytelling – More than just telling a story.