Join the thousands of parents already raising smarter, happier babies with our online baby classes: The Active Babies Smart Kids series. Click here.
GymbaROO-KindyROO kids are excelling academically, emotionally, in leadership roles and on the sporting field. Find us at: GymbaROO-KindyROO
Dr Jane Williams and Bindy Cummings
Researchers at the Pediatric Academic Societies (PAS) have found, through MRI technology, that reading to young children causes activity in the brain related to reading skill development, verbal development and image development, giving children a cognitive advantage early on.
In their new study, Dr. John Hutton of Cincinnati Children's Hospital Medical Center and his colleagues were able to see the actual activity that goes on in the brain when young children are read to.
"We are excited to show, for the first time, that reading exposure during the critical stage of development prior to kindergarten seems to have a meaningful, measurable impact on how a child's brain processes stories and may help predict reading success," Hutton said.
Researchers found that children who were read to more frequently at home had more activity in the area of their brains that helps derive meaning from language. This area is essential to verbal language development and ultimately reading.
They also found that brain areas associated with imagery were strongly activated, allowing children to develop visualisation skills – the ability to 'see the story.' Well developed visualisation skills are crucial to academic success.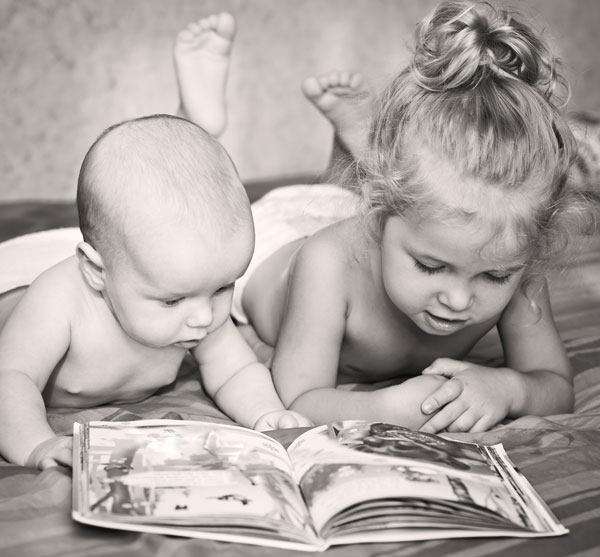 At GymbaROO-KindyROO, we have long recommended reading to your little ones to encourage interest in books and reading and to stimulate the development of many cognitive skills, providing essential building blocks for later learning. This is the first time evidence of changes in the brain can be seen and measured. Exciting times!
So, what are the best books for babies and toddlers?
Reading to your babies and toddlers is one of the most relaxing and enjoyable activities you can undertake. They will love the rhythm of your voice as you move through the pages and enjoy the visual stimulation as pictures flick by.
For babies' visual development it's best if books have pictures of a single object with a bold outline, however when it comes to auditory, speech and language development the truth of the matter is you can actually read anything you like to your child! Using a sing-song voice, read out loud whatever you fancy; weekly magazines; the local paper; online articles such as this one! If you are studying, why not read your text out loud? Quantum physics, Shakespearean prose, human anatomy, psychological theories and business management are all interesting to your baby!!  Reading on the floor together is a terrific tummy time activity.
If you do, however, want ideas about great books for babies and toddlers, there are some terrific ones available today – ideas abound on-line and in your local library and book shop. The local library is a great free resource so enjoy regular visits there – the children's books are usually plentiful and you and your children will enjoy a wonderful time of book discovery together while you make significant long term contributions to their cognitive skills!
Access and learn more wonderful, loving ways to encourage your baby's speech and auditory development in our online baby class "Your Baby's Hearing and Speech" here.
Active Babies Smart Kids – Online Baby Classes
GymbaROO-KindyROO's online series of baby classes is taking the parenting world by storm! It is highly recommended by doctors, paediatricians, early childhood experts and the Maternal Child and Family Health Nurses Association. This series is being called: "The essential guide for parents". Join the thousands of parents already playing with their babies from birth, in the best way for brain and body development and laying crucial foundations for future learning. What happens in the first year, not only matters, it matters a lot! See Introductory video below.
Active Babies Smart Kids online series – Click here.
Try the first class FREE! Click here to watch our Active Babies Smart Kids Episode 1 – Tummy Time 
Dr Jane Williams (PhD, BMgt, RN(Paeds)) is the Research and Education General Manager for GymbaROO and KindyROO. Dr Williams is one of Australia's leading experts on baby and child development. More on Dr Williams here.
Bindy Cummings (B.Ed(Human Movement) Hons) has worked as a teacher, child development consultant, early childhood development lecturer, teacher trainer and INPP & iLS consultant. She is the co-creator of GymbaROO's Active Babies Smart Kids online series, has authored many published articles on child development. She is working on the content and development GymbaROO's portal and online training programs, and the creation of new online programs for parents and children. More on Bindy Cummings here.
GymbaROO-KindyROO
Thousands of parents, babies and children are presently involved in our programs and creating rising stars. GymbaROO-KindyROO kids are excelling academically, emotionally, in leadership roles and on the sporting field. Come join all the fun and learning! "GymbaROO – The best decision I ever made for my child." Classes from 6 weeks old – 7 years GymbaROO KindyROO 
Enjoy the following GymbaROO-KindyROO articles
GymbaROO-KindyROO: Who, what, where, why and how
Why GymbaROO-KindyROO kids excel – academically, emotionally, socially, in leadership roles and in sport
All about GymbaROO-KindyROO's online baby classes for parents and babies: Active Babies Smart Kids
How to raise a smarter, happier baby
Why active babies make smart kids
Become a GymbaROO-KindyROO franchisee
It takes only one hour during pregnancy to make a massive difference to your baby's future intelligence and happiness
The skills needed for writing begin in infancy. What parents can do.
Finger painting – A brilliant activity for babies and toddlers.
Recent research demonstrates the importance of early movement experiences to academic achievement.
When will my baby / toddler become right or left handed?
'Baby Seat' devices and propping your baby to sit. Please avoid. This is why.
How diet affects brain development.
Save
Save
Save
Save
Save
Save
Save
Save