Join the thousands of parents already raising smarter, happier babies with our online baby classes: The Active Babies Smart Kids series. Click here.
GymbaROO-KindyROO kids are excelling academically, emotionally, in leadership roles and on the sporting field. Find us at: GymbaROO-KindyROO
Dr Jane Williams and Bindy Cummings
At GymbaROO-KindyROO we advise that you never let your babies sleep in car capsules out of the car due to the postural challenges the semi-curled position creates to the back and neck, as well as the prolonged flexed position that prevents the baby stretching out fully into the extended position. This also applies to any device that puts a baby in this position, such as bouncinettes and rockers.
Extension of the muscles is important to develop healthy muscle tone and enables the inhibition of a reflex that enables babies to move forward on their tummies. Now there is an even more important reason for babies to be transferred out of car seats and into another form of carrier – such as a pram or your arms. Several research studies now confirm that this curled position leads to decreased oxygen levels which can hamper healthy brain function and can also tragically result in death from positional asphyxiation. Click here to learn how to encourage baby's healthy brain development with our online baby classes.
Researchers from Auckland University and the Cot Death Association warn that babies' time in car safety seats should be kept to a minimum, after the latest findings in their long-running research.
The researchers have previously shown a reduction in mild breathing problems in babies whose car safety seat was fitted with a simple foam insert with a slot for the back of the head. Babies' heads are larger, relative to the body, than adults' heads, and protrude behind the line of the back. The commercially available insert helps to keep the baby's body forward. It also allows the head to remain upright even when the infant is asleep, rather than slumping forward, which can obstruct breathing when the chin is on the chest and pushed back.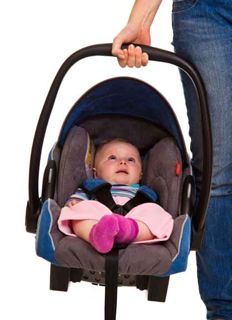 A larger study, published in the prestigious United States journal Pediatrics in July 2013, confirms that using the insert does reduce breathing risks for babies who were on average eight days old, but it does not eliminate the seats' risks.
Comparing sleep studies in two groups each of 39 babies, the researchers found those whose car safety seats had the inserts had fewer instances of stopping breathing because of a blocked airway, and had less severe reductions in oxygen saturation levels than the non-insert group. However, both groups recorded reduced oxygen levels in the blood. This means that less oxygen gets to the brain, and over long periods of time this can make a difference to how well the brain can function.
"There is now compelling evidence that hypoxia (oxygen deficiency to the brain) is associated with behavioural problems and adverse effects on development and school performance," Dr McIntosh said.
This study also highlights the importance of not using car seats as a place of sleep for infants. The Cot Death Association confirms that "car seat use has been associated with apparent life-threatening events and with at least some otherwise unexplained sudden deaths in term infants."
In their journal paper, the researchers note car safety seats are essential for infants' safe transport in cars but they express concern at the reported high rates of infants spending more than 30 minutes a day in a car seat, "often for sleep out of the car as well as for transport". The research team strongly advise that car seats should not be used for infant sleep outside the car. Car seat use should be restricted to the minimum time required for travel.
Dr Jane Williams (PhD, BMgt, RN(Paeds)) is the Research and Education General Manager for GymbaROO and KindyROO. Dr Williams is one of Australia's leading experts on baby and child development. More on Dr Williams here.
Bindy Cummings (B.Ed(Human Movement) Hons) has worked as a teacher, child development consultant, early childhood development lecturer, teacher trainer and INPP & iLS consultant. She is the co-creator of GymbaROO's Active Babies Smart Kids online series, has authored many published articles on child development. She is working on the content and development GymbaROO's portal and online training programs, and the creation of new online programs for parents and children. More on Bindy Cummings here.
Reference: McIntosh, C.G., Tonkin, S.L. & Gunn, A. J. (2013) Randomized Controlled trial of a car safety seat insert to reduce hypoxia in term infants. Pediatrics 2013; 132:2 326-331; doi:10.1542/peds.2013-0127
Active Babies Smart Kids – Online Baby Classes
GymbaROO-KindyROO's online series of baby classes is taking the parenting world by storm! It is highly recommended by doctors, paediatricians, early childhood experts and the Maternal Child and Family Health Nurses Association. This series is being called: "The essential guide for parents". Join the thousands of parents already playing with their babies from birth, in the best way for brain and body development and laying crucial foundations for future learning. What happens in the first year, not only matters, it matters a lot!
Active Babies Smart Kids BabyROO series – Click here.
Try the first class FREE! Click here to watch our Active Babies Smart Kids Episode 1 – Tummy Time 
GymbaROO-KindyROO
Thousands of parents, babies and children are presently involved in our programs and creating rising stars. GymbaROO-KindyROO kids are excelling academically, emotionally, in leadership roles and on the sporting field. Come join all the fun and learning! "GymbaROO – The best decision I ever made for my child." Classes from 6 weeks old – 7 years GymbaROO KindyROO 
Enjoy the following GymbaROO-KindyROO articles
GymbaROO-KindyROO: Who, what, where, why and how
Why GymbaROO-KindyROO kids excel – academically, emotionally, socially, in leadership roles and in sport
All about GymbaROO-KindyROO's online baby classes for parents and babies: Active Babies Smart Kids
How to raise a smarter, happier baby
Why active babies make smart kids
Become a GymbaROO-KindyROO franchisee
It takes only one hour during pregnancy to make a massive difference to your baby's future intelligence and happiness
Beware over use of 'containers' – Why babies need the space and freedom to move.
Tummy time for baby's healthy development.
Baby milestones: A journey, not a race.
An important warning for all parents of babies.
'Baby Seat' devices and propping your baby to sit. Please avoid.
Overstimulation. Is your baby at risk of sensory overload?
Baby Development Classes. Why GymbaROO for Babies?
GymbaROO-KindyROO: What parents say.
Click here for more GymbaROO-KindyROO article choices
Save
Save
Save
Save
Save
Save