Join the thousands of parents already raising smarter, happier babies with our online baby classes: The Active Babies Smart Kids series. Click here.
GymbaROO-KindyROO kids are excelling academically, emotionally, in leadership roles and on the sporting field. Find us at: GymbaROO-KindyROO
By Dr Jane Williams and Bindy Cummings
The effect of music is very apparent to anyone who watches babies respond to the sing-song of their mother's voice as they learn to listen and communicate.
Long before they learn to speak, babies respond to the sound of music. Mothers often notice that when they are pregnant, the baby responds to certain kinds of music. Some mothers have even reported that their baby reacts to the music associated with their favourite TV program. This response continues after the baby is born.
Parents instinctively communicate with infants in a musical manner, using a wide range of sing-song-like phrases. This melodic use of voice, referred to as 'motherese', is used across all cultures. Parents find that their babies respond very positively to such communication, in fact, babies actually encourage it by rewarding their parents with smiling, lighting up their eyes, gurgling and paying close attention to the face of the singer. This high-pitched, sing-song speech style has also been found to help babies connect objects to words. By six months of age a baby can recognise the vowel sounds that are basic building blocks of speech. Click here to access GymbaROO-KindyROO's video with ideas and activities to help your baby's speech and hearing development.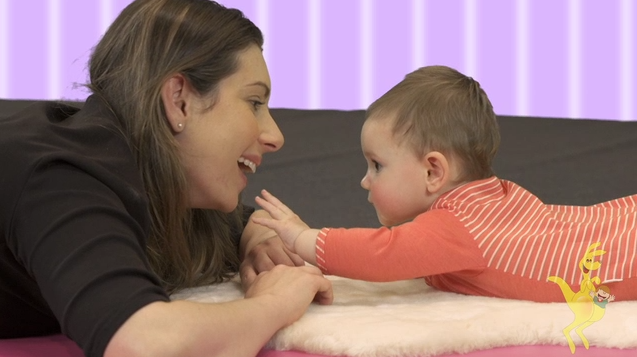 Researchers have found that when a person listens to music, the brain responds in several different areas. Not only are the auditory (hearing and interpretation of sound) centres of the brain responding, but areas of the brain that involve other kinds of thinking and emotions, also respond. Think about the music you chose to play when you want your baby to sleep. Quiet, melodic music calms your baby's emotional response while playing up-tempo music is more likely to arouse your baby and stimulate play.
If you expose young babies and children to music in their homes, on testing they will show enhanced auditory brain activity in comparison to children who are not regularly exposed to music. This suggests that playing music regularly to babies may help to stimulate development…so that little bit of singing you do with your baby every day is not only fun, it is great for your baby's brain! Click here to access our video: Music and Rhythm for your Baby.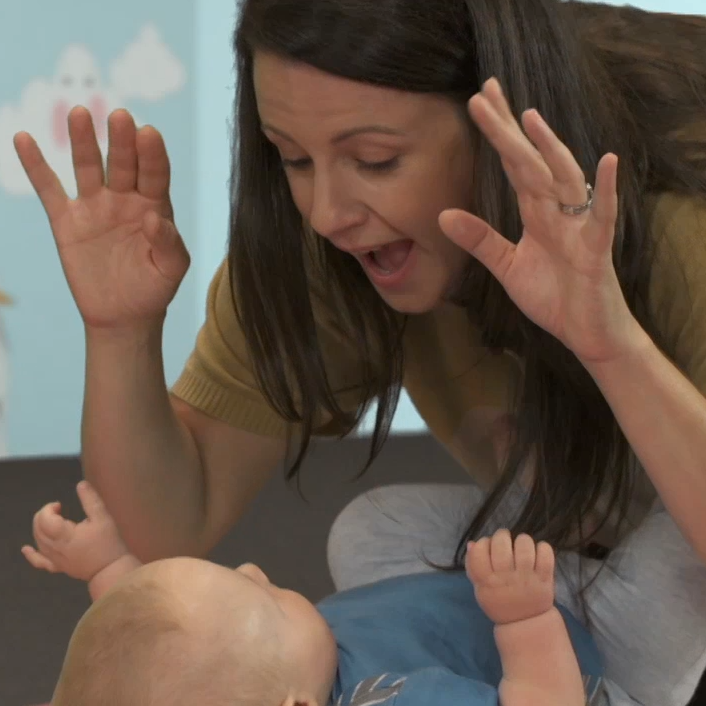 Musical activities for babies
Begin by introducing your young baby to music by playing soothing music quietly in his/her room. Classical music is very stimulating to the brain, especially music by Mozart, Vivaldi and other music from the Baroque period.
Sing nursery rhymes with your baby. Repeat the same rhymes regularly.
Massage your baby while playing music or singing to them, stroking in time to the music.
Tickling rhymes are a must. 'Round and round the garden' is a familiar one to start with.
Vary the tone of your voice when talking to your baby: talk, hum, sing and chant (especially rhymes, poems) during changing, feeding etc.

Introduce new songs that have different rhythms. Baby will begin to recognise the faster or slower beat.
Singing can be done with movement from birth.  Start by rocking or swaying your infant while playing a piece of music, singing a rhyme or saying a poem. Lay the baby across your lap and bob your knees gently up and down, or rock sideways. Bouncing activities such as 'Ride a cockhorse'  begin to introduce the 'beat' of the music
You will find lots and lots of musical activities for babies in our online series of baby classes – Active Babies Smart Kids
Active Babies Smart Kids – Online Baby Classes
At GymbaROO-KindyROO we know that you are your baby's first and most important teacher. If you are unable to get to a GymbaROO or KindyROO centre, you can now join in and learn with our online video series on baby development. This online series is taking the parenting world by storm! It is highly recommended by doctors, paediatricians, early childhood experts and the Maternal Child and Family Health Nurses Association. It is being called: "The essential guide for parents." Join the thousands of parents already playing with their babies from birth, in the best way for brain and body development and laying crucial foundations for future learning. What happens in the first year, not only matters, it matters a lot!
Active Babies Smart Kids online baby classes – Click here.
Try the first class FREE! Click here to watch our Active Babies Smart Kids Episode 1 – Tummy Time 
Dr Jane Williams (PhD, BMgt, RN(Paeds)) is the Research and Education General Manager for GymbaROO and KindyROO. Dr Williams is one of Australia's leading experts on baby and child development. More on Dr Williams here.
Bindy Cummings (B.Ed(Human Movement) Hons) has worked as a teacher, child development consultant, early childhood development lecturer, teacher trainer and INPP & iLS consultant. She is the co-creator of GymbaROO's Active Babies Smart Kids online series, has authored many published articles on child development. She is working on the content and development GymbaROO's portal and online training programs, and the creation of new online programs for parents and children. More on Bindy Cummings here.
GymbaROO-KindyROO
Thousands of parents, babies and children are presently involved in our programs and creating rising stars. GymbaROO-KindyROO kids are excelling academically, emotionally, in leadership roles and on the sporting field. Come join all the fun and learning! "GymbaROO – The best decision I ever made for my child." Classes from 6 weeks old – 7 years GymbaROO KindyROO 
Enjoy the following GymbaROO-KindyROO articles
GymbaROO-KindyROO: Who, what, where, why and how
Why GymbaROO-KindyROO kids excel – academically, emotionally, socially, in leadership roles and in sport
All about GymbaROO-KindyROO's online baby classes for parents and babies: Active Babies Smart Kids
How to raise a smarter, happier baby
Why active babies make smart kids
Become a GymbaROO-KindyROO franchisee
It takes only one hour during pregnancy to make a massive difference to your baby's future intelligence and happiness
Overstimulation. Is your baby at risk of sensory overload?
Tummy time for baby's healthy development.
Important reasons to teach your baby / child to 'keep the beat'
Why creeping and crawling matter.
GymbaROO and you, creating rising stars (4)
Click here for more GymbaROO-KindyROO article choices
Save
Save
Save
Save
Save
Save
Save
Save
Save
Save
Save
Save
Save