Join the thousands of parents already raising smarter, happier babies with our online baby classes: The Active Babies Smart Kids series. Click here.
GymbaROO-KindyROO kids are excelling academically, emotionally, in leadership roles and on the sporting field. Find us at: GymbaROO-KindyROO
GymbaROO and KindyROO kids are excelling academically, emotionally and on the sporting field. These children spent the first three or more years of their lives involved with GymbaROO. Their parents also reinforced our program at home by doing GymbaROO type activities with their children and integrating the information they had learned during their classes into their daily lives. We cannot emphasise enough how much of a difference this can make to your child's future.
Enjoy these two special stories, the first is that of one of our original GymbaROO graduates and the second, the story of a baby born with low muscle tone.
Danielle
Danielle attended GymbaROO over 30 years ago, placing her amongst the earliest of GymbaROO graduates. From a young age, Danielle was incredibly intrigued with the world around her and fascinated with music, dance and adventure. Eager to feed Danielle's passion and creative flair, her mother Pauline enrolled her in GymbaROO. She remembers the singing and dancing as being incredibly important to Danielle's overall development and in helping her to develop confidence in small groups, however it was the climbing that she loved most!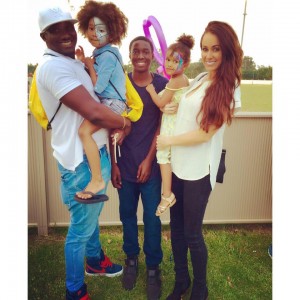 Now, 30 years on, Danielle is the mother of three beautiful children. She is a GymbaROO mum and is a delightful and inspiring mix of talent and inner beauty. Danielle is a skilled and successful director and producer and is very proud to have directed and produced GymbaROO's very popular online BabyROO series: Active Babies Smart Kids. We felt truly blessed to have been placed in the confident, loving and expert hands of Danielle throughout the filming and development of our series.
Danielle and her husband Chico run their own production company: CheekyMac productions. They are passionate about creating awareness around the affects of bullying and suicide and have directed and produced a series of Bully Zero TV commercials and web campaigns. They visit schools with their CheekyMac schools programs sharing messages of hope around these issues. Danielle and Chico also run a 'not for profit' organisation, CheekyMac Charities, where they use arts and entertainment to raise funds for a number of charities around the world.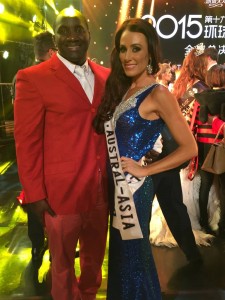 In 2015, Danielle was selected to represent Australasia on the world stage of the International Pageant – Mrs Globe. Recognised for her philanthropic work, Danielle won the Peoples Choice Award at the Mrs Australia Pageant and was voted by her fellow contestants on the International Stage as the Contestants Choice to win Mrs Globe. She now uses this new platform to continue inspiring all those she meets, and uplifting women, men and children all round the world. Clearly her coordination is excellent…those catwalks are not as easy as they look!
At age 34 it's incredible that I can still remember the excitement and joy I felt being in Memorial Hall in Sale for my GymbaROO classes. Most mothers would agree that your memory diminishes rapidly after birthing your children, so the fact that I can still remember this joy shows just how impactful GymbaROO was early on in my life! Danielle
Louis
Current age: 21 years old
Started attending GymbaROO at 6 weeks
Number of years at GymbaROO: 5 years
As a result of a difficult birth and a genetic predisposition, Louis was born with very low muscle tone – a 'floppy baby'.  Being well versed in all things GymbaROO, we started 'GymbaROOing' Louis from the moment he was born. Low muscle tone was not a condition Louis was going to grow out of, however we were going to do our best to minimise the impact poor muscle tone would have on Louis's future learning and coordination.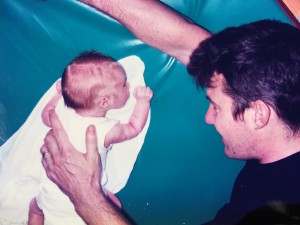 Louis was given tummy time from birth and even with such a degree of low tone, he was lifting and turning his head when only a few days old. With more tummy time, baby exercise, massage, finger-plays, foot plays, reflex integration activities and everything else 'GymbaROO', Louis was not only a beautifully settled and happy baby, he also started commando crawling, (tummy crawling), before he turned four months. Louis commando crawled for five months then crept for a further eight months, so he actually crawled and crept for over a year, not walking until fifteen months of age. He needed to spend more time within each movement stage to practice the skill (and practice he did!), and to develop the adequate muscle tone and balance necessary for subsequent movement milestone.  Louis walked later than most, ran later, jumped later, hopped later etc, however he did achieve all of these movement skills when his body and brain were ready. He of course attended GymbaROO from six weeks until he went to school.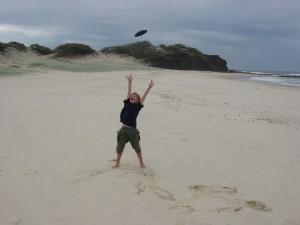 Louis was never going to be able to run fast, the low muscle tone would remain to that extent, however he could swim like a fish and his hand-eye and foot-eye coordination were exceptional. Put a ball, bat, racquet, stick or club in his hand and he was a complete 'natural' and often exceptional. Being thus, he swam for his school and received awards for cricket, softball, golf and hockey. He was able to participate in any sport he chose, reaching a very high level of skill and proficiency in golf and cricket.
Academically Louis was always in the top 10% of his year during primary school and received academic and public speaking awards along the way. He was tracking very well in high school too, until he was dealt another rather unexpected card from the 'life deck' and was diagnosed with cancer at fifteen years of age. Louis missed Year 10 at school. He was back at school, though still in 'recovery mode' for most of Year 11. He did not repeat the fourteen months of schooling he missed, yet he still managed to get a high enough ATAR to get into Medical Science at University, where he is now very happily passing his time, when he is not at home being hugged by his family.
I feel utterly grateful for the knowledge, information and fun GymbaROO blessed us with. I believe it made a massive difference to Louis's life, his self-esteem, happiness and what he was able to achieve. There is no doubt that the amount of time he spent crawling and creeping are in a large way responsible for his outstanding hand-eye coordination. Belinda – Mum
We would love to hear from you too! Please email the story of your GymbaROO baby to newsletter@gymbaroo.com.au
GymbaROO-KindyROO
Thousands of parents, babies and children are presently involved in our programs and creating rising stars. GymbaROO-KindyROO kids are excelling academically, emotionally, in leadership roles and on the sporting field. Come join all the fun and learning! "GymbaROO – The best decision I ever made for my child." Classes from 6 weeks old – 7 years GymbaROO KindyROO 
Active Babies Smart Kids – Online Baby Classes
GymbaROO-KindyROO's online series of baby classes is taking the parenting world by storm! It is highly recommended by doctors, paediatricians, early childhood experts and the Maternal Child and Family Health Nurses Association. This series is being called: "The essential guide for parents". Join the thousands of parents already playing with their babies from birth, in the best way for brain and body development and laying crucial foundations for future learning. What happens in the first year, not only matters, it matters a lot!
Active Babies Smart Kids online series – Click here.
Try the first class FREE! Click here to watch our Active Babies Smart Kids Episode 1 – Tummy Time 
Enjoy the following GymbaROO-KindyROO articles
GymbaROO-KindyROO: Who, what, where, why and how
Why GymbaROO-KindyROO kids excel – academically, emotionally, socially, in leadership roles and in sport
All about GymbaROO-KindyROO's online baby classes for parents and babies: Active Babies Smart Kids
How to raise a smarter, happier baby
Why active babies make smart kids
Become a GymbaROO-KindyROO franchisee
It takes only one hour during pregnancy to make a massive difference to your baby's future intelligence and happiness
GymbaROO and you, creating rising stars (1)
What babies really want: Developmentally brilliant gifts for babies.
The skills needed for writing begin in infancy. What parents can do.
Understanding tantrums – it's all about the brain.
Kids learning ability jumps 2 years with 25 minute GymbaROO movement program 3x a week.
NAPLAN results improve with LESS reading and maths and MORE GymbaROO.
Click here for more GymbaROO-KindyROO article choices
Save
Save
Save
Save
Save
Save
Save
Save
Save
Save
Save
Save
Save
Save
Save
Save
Save
Save
Save