Join the thousands of parents already raising smarter, happier babies with our online baby classes: The Active Babies Smart Kids series. Click here.
GymbaROO-KindyROO kids are excelling academically, emotionally, in leadership roles and on the sporting field. Find us at: GymbaROO-KindyROO
It is very exciting times for GymbaROO and KindyROO and also for parents of GymbaROO-KindyROO babies and kids! More and more evidence is being documented confirming the long-term benefits of our programs. GymbaROO-KindyROO kids are excelling academically, emotionally and on the sporting field. School teachers are describing those who have been through our programs as having higher levels of concentration, better behaviour and being generally more socially mature and physically capable than their peers.
Enjoy more remarkable accounts of children who spent the first three or more years of their lives involved with GymbaROO or KindyROO. Their parents also reinforced our program at home by doing GymbaROO-KindyROO type activities with their children and integrating the information they had learned during their classes into their daily lives. We cannot emphasise enough, how much of a difference this can make to your child's future.
Kira-Leigh and Courtney
Current ages:  15 and 14 years old
Started attending GymbaROO at 6 months
Number of years at GymbaROO: 4.5 years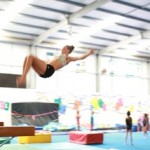 Sisters, Kira-Leigh and Courtney, both started GymbaROO at Mosman when they were six months old. As toddlers, they moved to Seaforth GymbaROO where they enjoyed the rest of their GymbaROO years until they started school.
Both girls were able to read when they started Kindergarten and as a result they would visit the Year One classroom for an hour each day for reading. Both girls scored in the top bracket in their NAPLAN results each year they took the test and they are now in the enrichment classes at High School.
They both compete at State level athletics for their school.
Kira-Leigh and Courtney started gymnastics at the age of five and three respectively and were asked to join the competitive squads very soon thereafter. Both girls now represent NSW in gymnastics, with Courtney winning the Border Challenge for NSW in Queensland in June this year.
"I have no doubt that the girls first five years spent at GymbaROO contributed GREATLY to all these achievements." Carolyn – mum. ­
Charlie
Current age: 19 years old
Started attending GymbaROO at 2 months
Number of years at GymbaROO: 5 years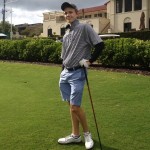 Schooling for Charlie was a great joy. He did very well academically, socially and on the sporting field. Charlie was a prefect in Primary School and enjoyed a range of sports throughout his schooling. He graduated last year with an ATAR of 97%.  At the age of thirteen, Charlie picked up a golf club and from there on in, his passion has been golf. He now plays off scratch. In 2013 he became the youngest player ever to win the Manly Golf Club Championship. Charlie was offered a scholarship (combined sport/academia) to study in America and moved this year to the USA to study and to play golf for the Eastern Illinois University golf team.
"GymbaROO provided me with many wonderful bonding activities and opportunities with Charlie. Thanks to this interaction, Charlie developed a secure attachment, which allowed him to grow into a well-balanced individual emotionally, socially and cognitively.  Moreover, the routine that came from attending GymbaROO allowed him to develop self-discipline, one of the keys to his success in an individual sport such as golf." Liliane– mum.
Read about more GymbaROO / KindyROO kids excelling here.
GymbaROO-KindyROO
Thousands of parents, babies and children are presently involved in our programs and creating rising stars. GymbaROO-KindyROO kids are excelling academically, emotionally, in leadership roles and on the sporting field. Come join all the fun and learning! "GymbaROO – The best decision I ever made for my child." Classes from 6 weeks old – 7 years GymbaROO KindyROO 
Active Babies Smart Kids – Online Baby Classes
GymbaROO-KindyROO's online series of baby classes is taking the parenting world by storm! It is highly recommended by doctors, paediatricians, early childhood experts and the Maternal Child and Family Health Nurses Association. This series is being called: "The essential guide for parents". Join the thousands of parents already playing with their babies from birth, in the best way for brain and body development and laying crucial foundations for future learning. What happens in the first year, not only matters, it matters a lot! See Introductory video below.
Active Babies Smart Kids online series – Click here.
Try the first class FREE! Click here to watch our Active Babies Smart Kids Episode 1 – Tummy Time 
Enjoy the following GymbaROO-KindyROO articles
GymbaROO-KindyROO: Who, what, where, why and how
Why GymbaROO-KindyROO kids excel – academically, emotionally, socially, in leadership roles and in sport
All about GymbaROO-KindyROO's online baby classes for parents and babies: Active Babies Smart Kids
How to raise a smarter, happier baby
Why active babies make smart kids
Become a GymbaROO-KindyROO franchisee
GymbaROO and you, creating rising stars (3)
Terrifically toned: Muscle tone and its link to learning and development in babies and children.
Recent research demonstrates the importance of early movement experiences to academic achievement.
Primitive reflexes and why parents need to know about them.
NAPLAN results improve with LESS reading and maths and MORE GymbaROO.
To my elected childcare, preschool or school: Please include a GymbaROO sensorimotor program.
Click here for more GymbaROO-KindyROO article choices
Save
Save
Save
Save
Save
Save