Join the thousands of parents already raising smarter, happier babies with our online baby classes: The Active Babies Smart Kids series. Click here.
GymbaROO-KindyROO kids are excelling academically, emotionally, in leadership roles and on the sporting field. Find us at: GymbaROO-KindyROO
Dr Jane Williams and Bindy Cummings
At GymbaROO and KindyROO we have always strongly advocated the importance of motor development in the first years of life to later success at school. The relationship between motor development and school success is gaining much greater traction and support as research is finding more and more, that children who do well academically also have high levels of motor skill ability. The following research papers are examples of some of the studies being carried out.
One to three year old toddlers motoring along in maths skills
A recently published study1 has found that toddlers under the age of four years who acquire an extensive range of motor skills also demonstrate high levels of mathematical skills. Toddlers develop mathematical skills based on bodily and sensory-motor experiences that apply to mathematical concepts such as shape, space and order. How do I fit? How many of those shapes can I crawl through? What part of my body should I use first in order to move through that tunnel? etc. When toddlers actively play they are also stimulating the development of number skills such as manipulation, playing with objects that require classification, one-to-one correspondence, counting and sorting.  When moving, children are developing visual perceptual skills and visual motor skills, and the more effective and efficient these are by the time a child arrives at school, the more successful the child will be at reading, maths and general achievement.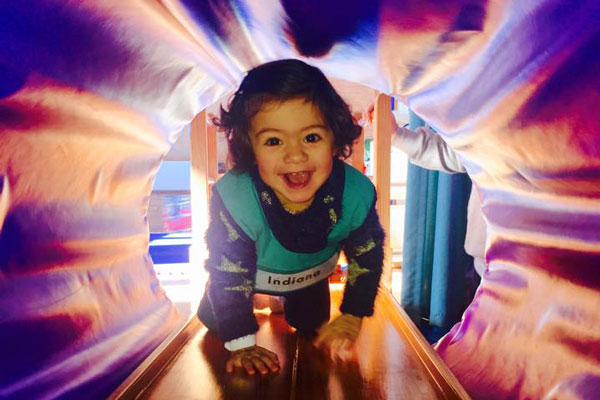 Motor skills in four year olds predicts how well children think and learn

In this research2, the authors investigated the motor skills and cognitive abilities of a group of four year old children. They found a strong association between a child's motor ability, coordination and his/her verbal ability and IQ, as well as between fine motor coordination (hand and finger control) and IQ. The authors report that earlier research findings, which suggested a significant relationship between processing speed and working memory, has also been found between a child's early gross motor development and later cognitive performance at school.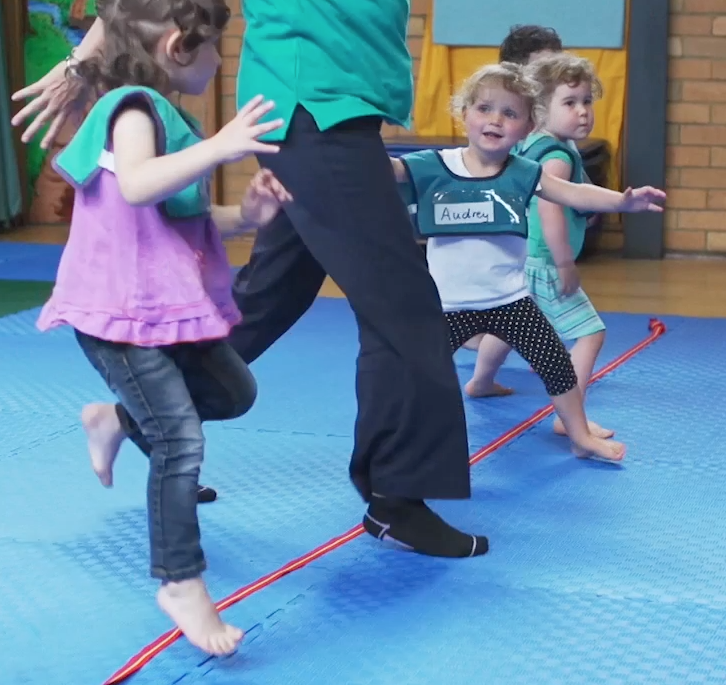 Children who have more opportunities to practice motor skills and coordination tasks in their early years will not only be better equipped for learning in later childhood, this will also assist them right into adulthood. A large long-term study3 in 2006 showed a direct relationship between gross motor development in infancy and complex cognition in adults.
So get active with your kids right from the start, the payoff is immense and will benefit your child for a lifetime!
Dr Jane Williams (PhD, BMgt, RN(Paeds)) is the Research and Education General Manager for GymbaROO and KindyROO. Dr Williams is one of Australia's leading experts on baby and child development. More on Dr Williams here.
Bindy Cummings (B.Ed(Human Movement) Hons) has worked as a teacher, child development consultant, early childhood development lecturer, teacher trainer and INPP & iLS consultant. She is the co-creator of GymbaROO's Active Babies Smart Kids online series, has authored many published articles on child development. She is working on the content and development GymbaROO's portal and online training programs, and the creation of new online programs for parents and children. More on Bindy Cummings here.
References: 1. Reikeras, E., Moser, T & Tonnessen, F.E. (2015). Mathematical skills and motor life skills in toddlers: Do difference in mathematical skills reflect differences in motor skills? European Early Childhood Education Research Journal, DOI:
10.1080/1350293X.2015.1062664.

  2. Hernadez, A.M. & Cacola, P. (2014). Motor proficiency predicts cognitive ability in four-year-olds. European Early Childhood Education Research Journal, DOI:

10.1080/1350293x.2014.991094.

 3. Murray, G.K. et al. (2006). Infant Motor development is associated with adult cognitive categorization in a longitudinal birth cohort study, Journal of Child Psychology and Psychiatry 47(1): 25-29.
GymbaROO-KindyROO
Thousands of parents, babies and children are presently involved in our programs and creating rising stars. GymbaROO-KindyROO kids are excelling academically, emotionally, in leadership roles and on the sporting field. Come join all the fun and learning! "GymbaROO – The best decision I ever made for my child." Classes from 6 weeks old – 7 years GymbaROO KindyROO 
Active Babies Smart Kids – Online Baby Classes
GymbaROO-KindyROO's online series of baby classes is taking the parenting world by storm! It is highly recommended by doctors, paediatricians, early childhood experts and the Maternal Child and Family Health Nurses Association. This series is being called: "The essential guide for parents". Join the thousands of parents already playing with their babies from birth, in the best way for brain and body development and laying crucial foundations for future learning. What happens in the first year, not only matters, it matters a lot! See Introductory video below.
Active Babies Smart Kids online series – Click here.
Try the first class FREE! Click here to watch our Active Babies Smart Kids Episode 1 – Tummy Time 
.
Enjoy the following GymbaROO-KindyROO articles
GymbaROO-KindyROO: Who, what, where, why and how
Why GymbaROO-KindyROO kids excel – academically, emotionally, socially, in leadership roles and in sport
All about GymbaROO-KindyROO's online baby classes for parents and babies: Active Babies Smart Kids
How to raise a smarter, happier baby
Why active babies make smart kids
Become a GymbaROO-KindyROO franchisee
Baby Development Classes. Why GymbaROO for Babies?
Understanding tantrums – it's all about the brain.
Help children develop healthy eating habits from the start.
Trampolines – The benefits of the bounce for babies and children.
Click here for more GymbaROO-KindyROO article choices
Save
Save
Save