Join the thousands of parents already raising smarter, happier babies with our online baby classes: The Active Babies Smart Kids series. Click here.
GymbaROO-KindyROO kids are excelling academically, emotionally, in leadership roles and on the sporting field. Find us at: GymbaROO-KindyROO
By Marianne Schriever
Nearly all young children have one overwhelming fear in common – the fear of separation. This is a normal stage of development and can begin as early as six month of age,  generally fading around school age, though can go on for longer. Crying, tantrums or clinginess, though harrowing, are healthy, normal reactions to separation. Separation anxiety is at its most intense in the first three years, with the intensity level and timing varying greatly from child to child. In some children however, fears about separation may intensify as time passes or resurface out of the blue.
Initially the child resents being handled by anyone else except her mother, however this quickly eases with the child allowing other members of the family and caregivers in on the act. When playing, she is never too far away from mum and if playing in another room, reappears often to check if mum is still present.
Most parents today need child-care or babysitters to allow them to go to work or for a little time off from the busy business of child rearing. Leaving the child with someone else may be difficult initially, with profuse tears being shed on departure and again at pick up time…sometimes by both parties, however with understanding, support, comfort, patience and coping strategies, the anxiety can be relieved and fall away.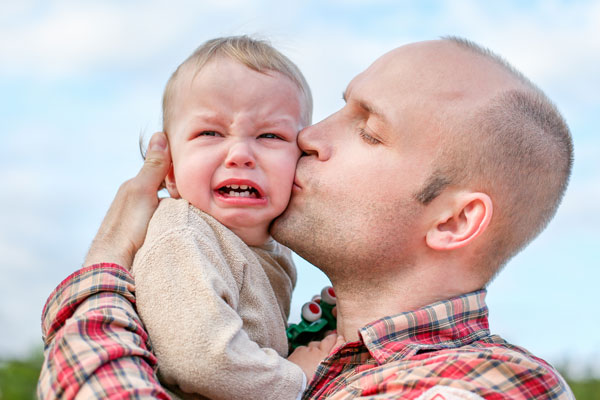 Here are some strategies to help ease separation anxiety.
Play peek-a-boo games that help your baby to recognise that the hider is coming back and will appear from behind the hands or behind the furniture.
Hide toys under blankets, so bub can find them.
Keep familiar surroundings when possible. Have a sitter come to your house.
Begin separation with a grandparent or friend your child knows already.
Schedule separation after a nap or a feed. Babies are more susceptible to separation anxiety when they are tired or hungry.
Accompany your little one with her cuddly toy or another security item.
Never leave in a great rush, give your child a little time to acclimatise.
Develop a good-bye ritual. Rituals are reassuring and can be as simple as a special wave and a good-bye kiss.
Practice separation by leaving  for a very brief period at first. Keep these short periods up for a couple of weeks.
Gradually extend the time, as she learns that you will return.
Have a consistent primary caregiver.
If you use day-care early, try if possible to choose a centre with a low turnover rate, where your child can be bonded with caregivers who are likely to remain. Unless unhappy with the centre, try to avoid switching day-care, since your child may experience anxiety being separated from a centre caregiver.
Leave without fanfare. Tell your child you are leaving and that you will return, then go and don't linger. Leave decisively, try to avoid turning back when half way out the door.
Reassure your little one that she will be fine. Setting limits helps the adjustment to separation.
As pre-school is usually the child's first major separation, the child must know what is going to happen to her when the parent leaves.
Gently introduce her to pre-school and her new surroundings by visiting for short periods before starting formally.
With pre-school and school children it is important to encourage them to talk about their fears of separation. Allow them to tell their story over and over again. The re-telling, in addition to releasing tears, will show that the parent really cares. When the child repeats the story over and over again it loses its sting. If the child doesn't want to tell the story, then you could try telling it for her and asking her how she may have felt.
Another reason for telling the story is that it strengthens the relationship between you and your and child. It is so much more healing to cry on a parent's shoulder.
Play, creativity and fantasy are all ways to help children overcome anxiety. Many children, given the opportunity, will bring their fear and anxiety into their play in order to master them.
Others will need an invitation to pretend that teddy is going to kindergarten. Use two puppets to tell about their fear.
Allow tears. They are good, despite us trying to stop them. Tears are the only way infants can forcefully command parent attention and express themselves. Try to look upon crying as becoming 'un-sad'. Children often feel happier after a cry,  as do adults!
Give plenty of persistent encouragement without exerting pressure: "I'm confident that you can settle into Kindy. We'll work it out together."
If anxieties are persistent and excessive enough to get in the way of pre-school, there is little point in forcing your child to go on. It may be better to delay the start. Rushing a child into pre-school for which she is not ready is pointless and may do harm for future learning environments.
It is most important that parents do not feel helpless, but empower themselves to deal with this normal stage of child development. What ever happens, it's OK, you are doing a great job. Every child is an individual, developing at their own rate. Different experiences will suit children at different times.
Marianne Schriever is a past School Principal and neuro-educational consultant for GymbaROO/KindyROO
Reference: Cohen, Lawrence j. Ph. D. Playful Parenting, 2001, Randem House Publishing Group
GymbaROO-KindyROO
Thousands of parents, babies and children are presently involved in our programs and creating rising stars. GymbaROO-KindyROO kids are excelling academically, emotionally, in leadership roles and on the sporting field. Come join all the fun and learning! "GymbaROO – The best decision I ever made for my child." Classes from 6 weeks old – 7 years GymbaROO KindyROO 
Active Babies Smart Kids – Online Baby Classes
GymbaROO-KindyROO's online series of baby classes is taking the parenting world by storm! It is highly recommended by doctors, paediatricians, early childhood experts and the Maternal Child and Family Health Nurses Association. This series is being called: "The essential guide for parents". Join the thousands of parents already playing with their babies from birth, in the best way for brain and body development and laying crucial foundations for future learning. What happens in the first year, not only matters, it matters a lot! See Introductory video below.
Active Babies Smart Kids online series – Click here.
Try the first class FREE! Click here to watch our Active Babies Smart Kids Episode 1 – Tummy Time 
Enjoy the following GymbaROO-KindyROO articles
GymbaROO-KindyROO: Who, what, where, why and how
Why GymbaROO-KindyROO kids excel – academically, emotionally, socially, in leadership roles and in sport
All about GymbaROO-KindyROO's online baby classes for parents and babies: Active Babies Smart Kids
How to raise a smarter, happier baby
Become a GymbaROO-KindyROO franchisee
Why GymbaROO kids excel academically.
Happy for life: How GymbaROO helps emotional development.
Why GymbaROO kids excel at sport.
Why GymbaROO kids excel socially and in leadership roles.
10 ways to give your baby a great start.
The skills needed for writing begin in infancy. What parents can do.
Supporting your baby's emotional development.
NAPLAN results improve with LESS reading and maths and MORE GymbaROO.
Click here for more GymbaROO-KindyROO article choices
Save
Save
Save
Save