Join the thousands of parents already raising smarter, happier babies with our online baby classes: The Active Babies Smart Kids series. Click here.
GymbaROO-KindyROO kids are excelling academically, emotionally, in leadership roles and on the sporting field. Find us at: GymbaROO-KindyROO
Dr Jane Williams and Bindy Cummings
The longer you can put off buying shoes for your child the better.  Babies and young children learn a lot about their bodies and the world around them through their feet. The latest research also tells us that bare feet improve memory! Read more here.
Bare feet just ask to be played with and tickled. Look at what people do when they hold an infant that has no shoes on! Stimulated bare feet send lots of sensory information to a baby's brain about toes and feet, learning where they are and what they feel like.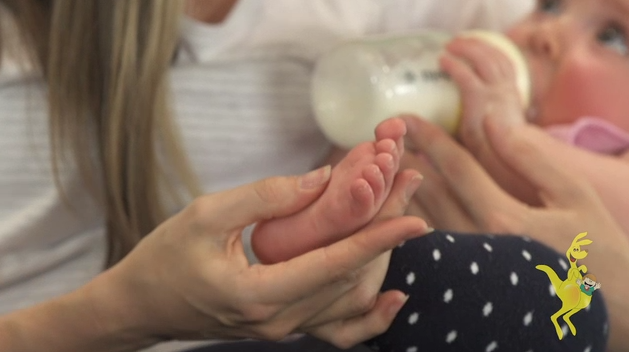 Babies also explore the world around them with their feet, as they push off with their toes and slide along the floor on their tummies. Pushing along with bare feet promotes muscle tone, bone structure and foot arches. Socks and shoes just get in the way!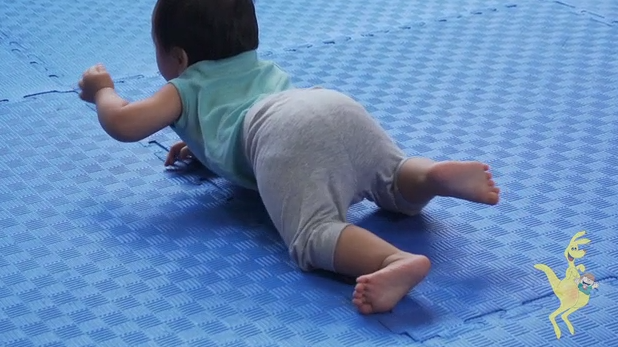 Learn all about how to encourage  foot development and promote a terrific sense of  balance for life in GymbaROO-KindyROO's online video here: Your Baby's Feet
Cruising around the furniture and walking is also easier with bare feet. As babies begin to pull themselves up into the standing position and walk sideways around the furniture, they need to be able to spread their toes and learn the difficult task of standing balance.
Later activities of walking, running, jumping and climbing are all achieved with more control with bare feet.
Shoes do help to protect the feet from injury, cold and heat, but they often get in the way of function. When you do have to purchase your child's first pair of shoes, here are a few hints that may help you buy a pair that will not restrict function too much:
They should allow a position of the foot that resembles bare-footedness.
They should be long enough, wide enough and deep enough to allow wriggling room for the toes.
They should be secure at the heel. Sandals should be filled in at the heel and have adjustable straps, giving a firm hold on the heel.
They should be flexible.
Ankle boots are not necessary unless recommended by a doctor, podiatrist or physiotherapist.
Be sure that socks are big enough and do not cramp the toes. Socks with woolen or cotton blend are preferable to synthetic ones, as they allow perspiration of the foot to be absorbed.
When your baby is small and still wearing grow-suits, don't forget that as she grows her toes will be cramped if her suit is not long enough. Cut the feet off the leggings to prevent this happening.  This also gives her plenty of opportunity to kick those bare feet on her bedding and on the floor.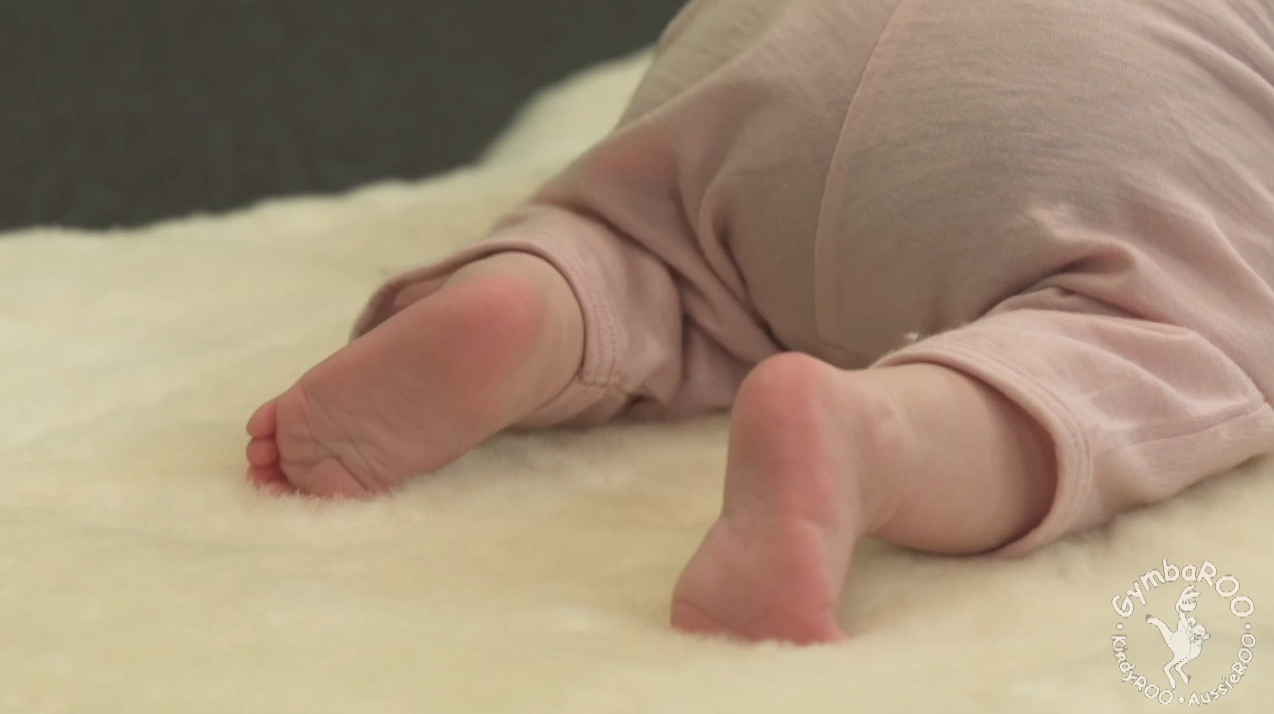 Catching colds and trimming tiny toenails
Take a listen to paediatrician Dr Luke, in this clip from our online series for parents and babies Active Babies Smart Kids, talk about babies catching a cold through their feet, along with his interesting but popular and effective way to trim those tiny toenails! Access the video here:  Your Baby's Feet.

Dr Jane Williams is the Research and Education General Manager for Toddler Kindy GymbaROO and Adjunct Senior Lecturer at the JCU School of Nursing, Midwifery & Nutrition.  Dr Luke Sammartino, BSc(Hons) BMBS MD FRACP is a paediatrician and widely published researcher, working in Melbourne. More on Dr Williams and Dr Sammartino here.
Bindy Cummings (B.Ed(Human Movement) Hons) has worked as a teacher, child development consultant, early childhood development lecturer, teacher trainer and INPP & iLS consultant. She is the co-creator of GymbaROO's Active Babies Smart Kids online series, has authored many published articles on child development. She is working on the content and development GymbaROO's portal and online training programs, and the creation of new online programs for parents and children. More on Bindy Cummings here.
Active Babies Smart Kids – Online Baby Classes
GymbaROO-KindyROO's online series of baby classes is taking the parenting world by storm! It is highly recommended by doctors, paediatricians, early childhood experts and the Maternal Child and Family Health Nurses Association. This series is being called: "The essential guide for parents". Join the thousands of parents already playing with their babies from birth, in the best way for brain and body development and laying crucial foundations for future learning. What happens in the first year, not only matters, it matters a lot! Introductory video below.
Active Babies Smart Kids online series – Click here.
Try the first class FREE! Click here to watch our Active Babies Smart Kids Episode 1 – Tummy Time 
GymbaROO-KindyROO
Thousands of parents, babies and children are presently involved in our programs and creating rising stars. GymbaROO-KindyROO kids are excelling academically, emotionally, in leadership roles and on the sporting field. Come join all the fun and learning! "GymbaROO – The best decision I ever made for my child." Classes from 6 weeks old – 7 years GymbaROO KindyROO 
Enjoy the following GymbaROO-KindyROO articles
GymbaROO-KindyROO: Who, what, where, why and how
Why GymbaROO-KindyROO kids excel – academically, emotionally, socially, in leadership roles and in sport
All about GymbaROO-KindyROO's online baby classes for parents and babies: Active Babies Smart Kids
How to raise a smarter, happier baby
Why active babies make smart kids
Become a GymbaROO-KindyROO franchisee
Bare feet for babies and children – Improves memory. New research
What babies really want: Developmentally brilliant gifts for babies.
Why creeping and crawling matter.
Click here for more GymbaROO-KindyROO article choices
Save
Save
Save
Save
Save
Save
Save
Save
Save
Save
Save
Save