Join the thousands of parents already raising smarter, happier babies with our online baby classes: The Active Babies Smart Kids series. Click here.
GymbaROO-KindyROO kids are excelling academically, emotionally, in leadership roles and on the sporting field. Find us at: GymbaROO-KindyROO
By Marianne Schriever
"Mummy I want to do poohs!" Many mums and dads are happy when they hear these  words from their child. Some children and parents breeze effortlessly through toilet training, while others experience some difficulties. When the child is ready for toilet training, muster up all the determination and patience, as you need to be prepared to work at it for several months. You might consider the following tips to make it easier for your child and you.
Know when your child is ready
Your child's unique development will determine when he's ready and how he will get through the process. You can lead a child to the toilet, but you can't make him do anything until he is ready.  Most children show signs of readiness between two and three years of age, although some may be ready earlier and some later. The child needs to have good body awareness and control of his urination and bowel movements and needs to be willing to try the potty or toilet.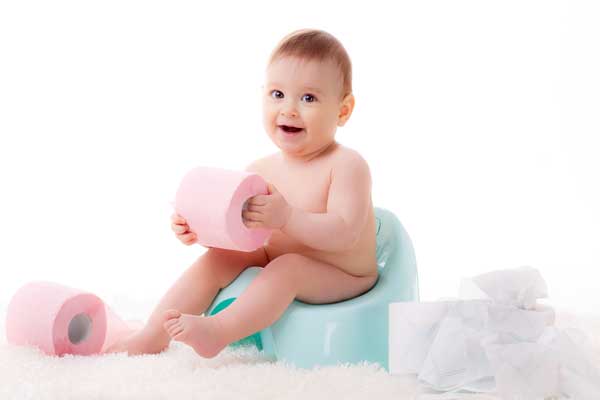 Look for the signs of readiness
The bowel movements are regular and predictable.
The nappy is dry for at least two hours during the day or after a nap.
The facial expression or posture is indicating when he is ready to do something.
The child seems to feel uncomfortable in a soiled nappy and indicates to have a nappy change.
He can walk to the bathroom, help undress and follow simple instructions.
He asks to use the potty or toilet.
Ensure the timing is right
It is important not to start toilet training if there are major changes going on in the child's life e.g. another sibling has arrived, moving house, changing child care or even a family holiday. You need to be prepared to spend time helping the child to be toilet trained.
Helping your child to use the toilet
When you think your child is ready, encourage this step cheerfully.  Ask any other caregivers to follow the same approach. Be patient as you can expect the toilet training process to take from three to six months.
Be sure your child understands what you want him to do. Let him watch you or older siblings go to the toilet.
Decide which words you will use to describe the process and your child's body parts. It is best to use the correct terms to save confusion.
Avoid ever using the word 'dirty' or 'bad' when mishaps occur.
Dress the child in loose clothing, which is easy to manage. Training pants can be helpful.
Get a comfortable, easy to clean potty or toilet seat adapter and step stool. Some children are actually afraid of falling into the toilet and feel more comfortable on a low potty chair with their feet on the floor.
Introduce the potty and allow the child to sit on it a few times with clothes on. Then encourage him to sit on it with the nappy on and then with the nappy off. Have him sit on the potty each day at the same time, so it becomes a routine. Try it at key times, when he is likely to do something. Maybe, try the potty every two hours.
Make the potty times last a few minutes to give the child a chance to relax. Talk encouragingly or even read a book and allow the child to leave when he is ready.
Don't expect the child to do something right away and don't show disappointment when nothing happens. But when he does something, reward him with praise and hugs.
Over time, teach the child to use all the steps – walking to the bathroom, pulling down the nappy or training pants, sitting on the potty or toilet, wiping with the paper, flushing and washing and drying hands.
When he has mastered to go consistently, celebrate the achievement by putting him into underwear.
You should expect that he will occasionally have accidents. It's best to keep a positive attitude and be prepared with extra underwear.  Deal with the accidents in an understanding and matter of fact way. Tell your child to try next time to get to the toilet on time.
Some children go from daytime toilet training to remaining dry during naps and night time shortly afterwards.  There may be a short 'window' whereby they have dry nappies at night as soon as they grasp day time training. Go with this and get rid of the night nappy rather than putting one on  'just in case.' This often works and will save you a lot of money!
Other children may continue to need a nappy at night for another few weeks or months or even more. Help your child not to feel embarrassed when he lacks bladder control.
A good tip is to have the child's bed made with two sets of sheets and mattress protectors, one set under the other. This way you can just take the wet set off and get everyone back to sleep as soon as possible.
If you are concerned about your child's bladder control, see your paediatrician to ensure it is not a sign of urinary tract infection, diabetes or any other cause. You may also want to see a neuro–developmental therapist, as children who have poor bladder control and wet the bed over the age of five years may have remaining primitive reflexes and may benefit from a Reflex Stimulation/Inhibition Program.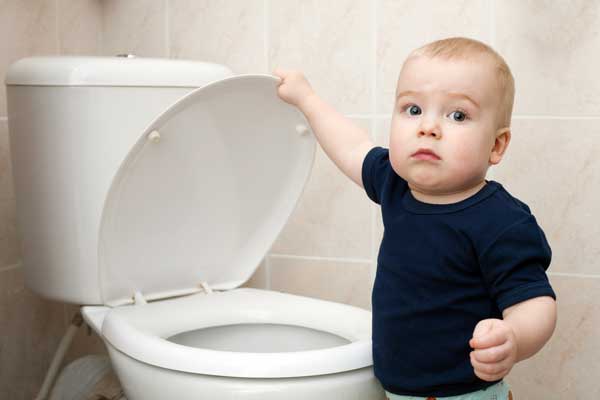 Marianne Schriever is a past school principal and current GymbaROO neuro-developmental consultant.
GymbaROO-KindyROO
Thousands of parents, babies and children are presently involved in our programs and creating rising stars. GymbaROO-KindyROO kids are excelling academically, emotionally, in leadership roles and on the sporting field. Come join all the fun and learning! "GymbaROO – The best decision I ever made for my child." Classes from 6 weeks old – 7 years GymbaROO KindyROO 
Active Babies Smart Kids – Online Baby Classes
GymbaROO-KindyROO's online series of baby classes is taking the parenting world by storm! It is highly recommended by doctors, paediatricians, early childhood experts and the Maternal Child and Family Health Nurses Association. This series is being called: "The essential guide for parents". Join the thousands of parents already playing with their babies from birth, in the best way for brain and body development and laying crucial foundations for future learning. What happens in the first year, not only matters, it matters a lot! See Introductory video below.
Active Babies Smart Kids online series – Click here.
Try the first class FREE! Click here to watch our Active Babies Smart Kids Episode 1 – Tummy Time 
Enjoy the following GymbaROO-KindyROO articles
GymbaROO-KindyROO: Who, what, where, why and how
Why GymbaROO-KindyROO kids excel – academically, emotionally, socially, in leadership roles and in sport
Become a GymbaROO-KindyROO franchisee
Primitive reflexes and why parents need to know about them.
Finger Painting – A brilliant activity for babies and young children.
He May Not 'Grow Out of It'. A Checklist for Parents of 0 – 5 Year Olds.
Understanding tantrums – it's all about the brain.
How diet affects brain development.
Separation anxiety and steps to make it easier.
When will my baby / toddler become right or left handed?
Click here for more GymbaROO-KindyROO article choices
Save
Save
Save
Save
Save
Save
Save