From GymbaROO Hoppers Crossing
Join the thousands of parents already raising smarter, happier babies with our online baby classes: The Active Babies Smart Kids series. Click here.
GymbaROO-KindyROO kids are excelling academically, emotionally, in leadership roles and on the sporting field. Find us at: GymbaROO-KindyROO
Here's something that's very simple and loads of fun. A rice sensory tub!
Sensory tubs can provide hours of engaging fun and educational opportunities for you and your little one. They are such a great way for children to learn about their senses, develop fine and gross motor skills, hand-eye coordination and thinking skills, all through the simple fun of exploring and play!
Today, our sensory tub is filled with loads of goodies; rice, pom poms, plastic shells, plastic crystals and buttons!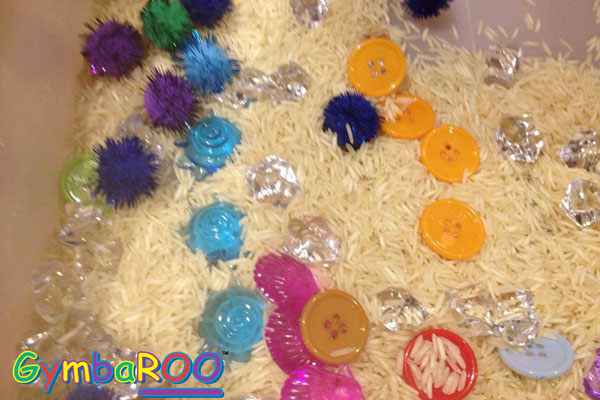 My 18 month old loved taking all the buttons out and putting them back in the tub! Use spoons, scoops, cups and jars of different sizes to help teach toddlers to spoon and pour.
2 1/2 year olds and up can practice pouring from jar to jar and holding a jar whilst spooning in,  great for developing laterality – essential for brain and body development. My 3 year old loves scooping things out, putting them in jars, playing pairs with dad and 'finding treasure!'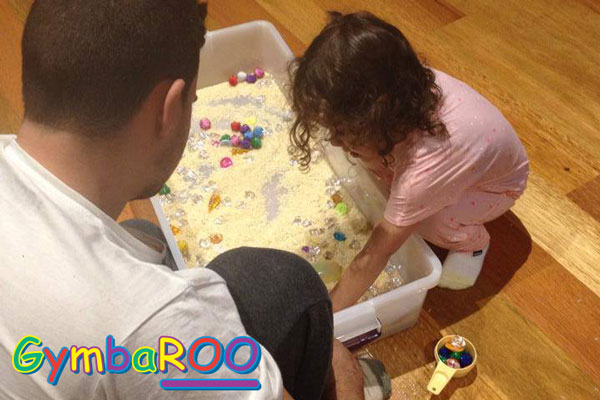 Everything in this tub I purchased at my local $2 shop.
Give it a go they will love it!
Safety Warning: As you would with any activity that involves small objects and children, ALWAYS supervise your little ones and make sure nothing goes into their mouths that they may choke on.
GymbaROO-KindyROO
Thousands of parents, babies and children are presently involved in our programs and creating rising stars. GymbaROO-KindyROO kids are excelling academically, emotionally, in leadership roles and on the sporting field. Come join all the fun and learning! "GymbaROO – The best decision I ever made for my child." Classes from 6 weeks old – 7 years GymbaROO KindyROO