Join the thousands of parents already raising smarter, happier babies with our online baby classes: The Active Babies Smart Kids series. Click here.
GymbaROO-KindyROO kids are excelling academically, emotionally, in leadership roles and on the sporting field. Find us at: GymbaROO-KindyROO
Kristie Ryan
In 2012, GymbaROO Canberra was approached by a childcare centre to educate their carers about child neuro-development and to give the staff ideas of activities they could do during the week to help the children in their centre reach their developmental milestones.  This led to our staff running a customised GymbaROO program consisting of mat time only, once a week in this centre. Today, GymbaROO sensorimotor programs  are operating in four childcare centres in Canberra. Two of these have been running the program for four years and two centres have commenced this year. This has led to very rewarding partnerships between GymbaROO and these childcare centres.
One of the predictable, yet thoroughly rewarding observations we see is that children who have participated in the program from a young age are reaching their milestones with ease and confidence, showing clear evidence that their foundational building blocks for learning are securely in place. All later learning depends on this. Furthermore, we see the children becoming independent and eager to try new skills at an earlier age.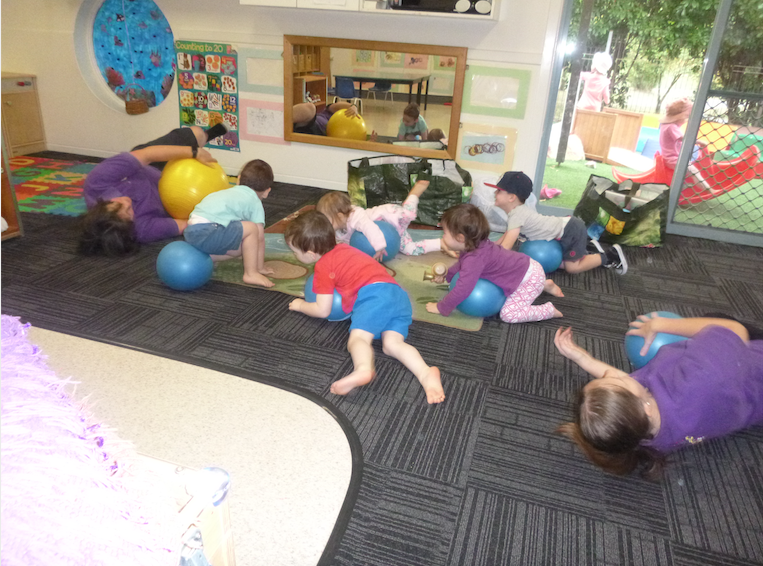 The best results are achieved when the weekly session of activities run by the GymbaROO staff are, with the encouragement of centre staff, practiced regularly by the children. Repetition is important for mastering skills and achieving milestones, so it's what children do every day, whether at home or whilst in care, that makes a difference!  Another exciting observation we see in the childcare centres is the children tend to become more creative with equipment, we have gathered so many ideas, which we then incorporate into the sessions both at the childcare centres and back at GymbaROO.
In childcare centres, our GymbaROO sessions run from non-mobile babies up to five years of age. Classes run between 30 and 45 minutes depending upon the age of the children. The children and staff are fully engaged for the whole session and have a wonderful time while learning. For many of the children and staff it is a highlight of their week in care. We have even had some parents changing their childcare days so they can participate in the program. The feedback from parents, children and childcare staff is extremely positive. The GymbaROO staff members who teach at the centres find it to be highly rewarding too!
Kristie Ryan: GymbaROO consultant, Canberra.
Image: Kara Hammell from Tuggeranong Child Care and Education Centre
GymbaROO sensorimotor programs are run at Majura Park Childcare Centre, Forrest Early Childhood Centre, Acacia Children's Education & Care Centre
For information on how you can implement a GymbaROO sensorimotor program at your childcare or preschool please email us: office@gymbaroo.com.au
GymbaROO-KindyROO
Thousands of parents, babies and children are presently involved in our programs and creating rising stars. GymbaROO-KindyROO kids are excelling academically, emotionally, in leadership roles and on the sporting field. Come join all the fun and learning! "GymbaROO – The best decision I ever made for my child." Classes from 6 weeks old – 7 years GymbaROO KindyROO 
E
njoy the following GymbaROO-KindyROO articles
To my elected childcare, preschool or school: Please include a GymbaROO sensory-motor program.
Kids learning ability jumps 2 years with 25 minute GymbaROO movement program 3x a week.
NAPLAN results improve with LESS reading and maths and MORE GymbaROO.
Choosing childcare that fosters neuro-development, quality play and rich learning environments.
GymbaROO-KindyROO: Who, what, where, why and how
Why GymbaROO-KindyROO kids excel – academically, emotionally, socially, in leadership roles and in sport
All about GymbaROO-KindyROO's online baby classes for parents and babies: Active Babies Smart Kids
How to raise a smarter, happier baby
Why active babies make smart kids
Become a GymbaROO-KindyROO franchisee
Click here for more GymbaROO-KindyROO article choices
Active Babies Smart Kids – Online Baby Classes
GymbaROO-KindyROO's online series of baby classes is taking the parenting world by storm! It is highly recommended by doctors, paediatricians, early childhood experts and the Maternal Child and Family Health Nurses Association. This series is being called: "The essential guide for parents". Join the thousands of parents already playing with their babies from birth, in the best way for brain and body development and laying crucial foundations for future learning. What happens in the first year, not only matters, it matters a lot!
Active Babies Smart Kids online series – Click here.
Try the first class FREE! Click here to watch our Active Babies Smart Kids Episode 1 – Tummy Time 
Save
Save
Save
Save
Save
Save
Save
Save
Save
Save
Save
Save
Save
Save
Save