Join the thousands of parents already raising smarter, happier babies with our online baby classes: The Active Babies Smart Kids series. Click here.
GymbaROO-KindyROO kids are excelling academically, emotionally, in leadership roles and on the sporting field. Find us at: GymbaROO-KindyROO
Those of us who grew up in the seventies and the eighties will remember how we used to scoot everywhere as children…especially on those large, two wheeled, big tyred scooters. So much fun! Then, for over a decade,  scooters practically disappeared! Thankfully, for our children's sake, the scooter made a big resurgence. Now, young children again have the opportunity to experience the joy of whizzing along the path, while their balance develops. Safe scooter riding, with helmets on, has so much to offer developing bodies and brains.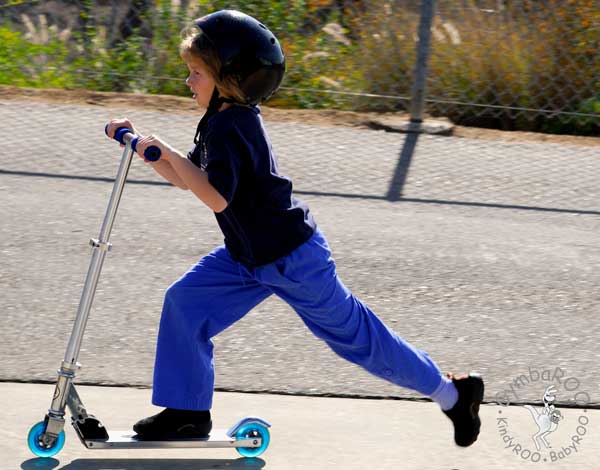 Steering the scooter with hands and one foot whilst pushing with the other foot, unconsciously gives both sides of your children's bodies the opportunity to work together and perfect their sense of balance. Once children have mastered scooting they have few problems with balance. Practiced scooter riders usually don't need trainer wheels once they graduate to two-wheeler bikes because of their well-developed balance and coordination.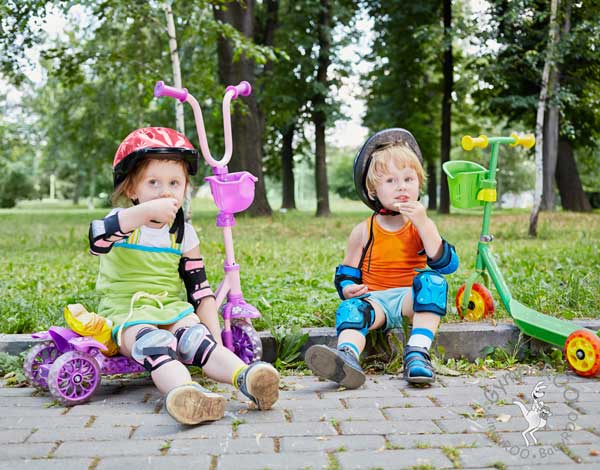 In order for the body to balance upright without falling over, the brain needs to:
Know where the body parts are.
Know what the body parts feel like in movement.
Be able to control them while moving – both sides together, separately and each side independently of the other.
To keep balanced in any position takes a lot of movement planning. The more complicated the movement, the more planning the brain has to do. Usually children are two and a half to three and a half, before they can balance on one foot and later hop on one leg.
Body awareness, muscle tone, vision and inner ear function all must develop before a good sense of balance can be achieved. Well-developed balance is essential for the establishment of integration – that is, for the two sides of the brain to work together. Integration is, in turn, crucially important for successful learning.
Scooting is a great way to perfect balance skills. If your child is three years of age, let him whizz around on a three-wheeled scooter. If your child is four years or over, a two-wheeled scooter makes a great present! And why not get one for yourself or dad at the same time? There are now great ones out there for 'big people'. Wheee….
Article from GymbaROO's official magazine First Steps Issue 91. Adapted from the original article 'Scooting Around' by Margaret Sasse: Founder of GymbaROO and KindyROO.

GymbaROO-KindyROO
Thousands of parents, babies and children are presently involved in our programs and creating rising stars. GymbaROO-KindyROO kids are excelling academically, emotionally, in leadership roles and on the sporting field. Come join all the fun and learning! "GymbaROO – The best decision I ever made for my child." Classes from 6 weeks old – 7 years GymbaROO KindyROO 
Active Babies Smart Kids – Online Baby Classes
GymbaROO-KindyROO's online series of baby classes is taking the parenting world by storm! It is highly recommended by doctors, paediatricians, early childhood experts and the Maternal Child and Family Health Nurses Association. This series is being called: "The essential guide for parents". Join the thousands of parents already playing with their babies from birth, in the best way for brain and body development and laying crucial foundations for future learning. What happens in the first year, not only matters, it matters a lot! See Introductory video below.
Active Babies Smart Kids online series – Click here.
Try the first class FREE! Click here to watch our Active Babies Smart Kids Episode 1 – Tummy Time 
Enjoy the following GymbaROO-KindyROO articles
GymbaROO-KindyROO: Who, what, where, why and how
Why GymbaROO-KindyROO kids excel – academically, emotionally, socially, in leadership roles and in sport
All about GymbaROO-KindyROO's online baby classes for parents and babies: Active Babies Smart Kids
Become a GymbaROO-KindyROO franchisee
NAPLAN results improve in Primary school with LESS reading and maths and MORE GymbaROO
When will my baby / toddler become right or left handed?
Understanding tantrums – it's all about the brain.
He May Not 'Grow Out of It'. A Checklist for Parents of 0 – 5 Year Olds.
Choosing childcare that fosters neuro-development, quality play and rich learning environments.
To my elected childcare, preschool or school: Please include a GymbaROO sensorimotor program.
GymbaROO and you: Creating rising stars (9)
Click here for more GymbaROO-KindyROO article choices
Save
Save
Save
Save
Save
Save
Save
Save
Save
Save
Save
Save
Save
Save
Save