Join the thousands of parents already raising smarter, happier babies with our online baby classes: The Active Babies Smart Kids series. Click here.
GymbaROO-KindyROO kids are excelling academically, emotionally, in leadership roles and on the sporting field. Find us at: GymbaROO-KindyROO
Disturbing statistics indicate that paediatric obesity and inactivity are on the rise.1  This alarming problem compounds as it is not only children's physical and emotional health that is at risk, but also their cognitive development. Overweight children have reduced opportunities to move, play and develop and this can severely impact their developing brain and their ability to learn in the future.
We, at GymbaROO-KindyROO, are striving to help reverse this frightening trend and you can help.
The big scary stats
Obesity and overweight rates for children under the age of five are about seven percent worldwide, however in Australia, the United Kingdom and the United States, the rate rises as high as 23 percent2. One in four Australian children are overweight or obese3.  It is predicted that by 2025 globally, 268 million children will be overweight: 12 million children with impaired glucose intolerance, 4 million with type 2 diabetes, 27 million with hypertension and 38 million with hepatic steatosis, (a buildup of fat in the liver). Obesity is also linked to depression and inflammation in children. All these conditions can lead to serious chronic diseases in adulthood and raise the risk of cognitive decline and mental illness. The annual cost of obesity in pre-schoolers in Australia is estimated to be around $17 million per year2 and there have been reports that the overall annual cost of obesity nationally could be as high as $56.6 billion.4
Starting obese, staying obese: Habits are formed very early
Research is showing that children who are obese tend to stay obese into adulthood2. Habits are formed very early. It is as early as the first year that the problem starts for many children. Studies are showing that growth patterns in children who become severely obese by six years of age differ from normal-weight children as young as four to six months of age.
Why does obesity affect brain development?
Babies and children who are overweight will move less. This not only puts their physical health 'at risk' but also their brain development. For babies and young children, movement is the key to learning5. Movement experiences in the earliest years affects how the brain wires itself. These years are a critical period for learning and what happens in these earliest years affects all later development. Research into brain development clearly shows a child's success at school is set in the first years of life. Decreased levels of activity means a reduction in the time that babies and children have to practice the building blocks of movement and learning – fundamental motor skills – as well as learn about the world through their senses. When movement opportunities are reduced, the brains opportunity to learn and function to its potential capacity is also reduced and this can impact cognitive function for the remainder of the child's life.
Research is also now suggesting that obesity may harm a child's brain by weakening their attention and memory and may also lead to brain changes that hamper children's impulse control, making it harder to resist eating.6
Prevention. Prevention. Prevention
Worldwide governments are being urged by obesity-prevention experts to take immediate action and introduce strong measures to reduce childhood obesity. As yet no policy interventions have proven effective at changing current trends.
Who says we can't change the world? This is how you can help
"While the government delays, more children will become obese. The future health of our children depends on strong action right now. Every day counts." 7
A big part of the answer to reversing this disturbing trend lies in parent education from pregnancy and helping ALL parents to understand how important movement experiences are for babies and young children in the earliest years of life.
Developing a love of being active from birth is vital. A movement program integrated into every child's daily life from the earliest months after birth is crucial to both reducing paediatric obesity rates and to profoundly influencing the process of brain growth and neurological organisation – stimulating intellectual and social growth and healthy physical development.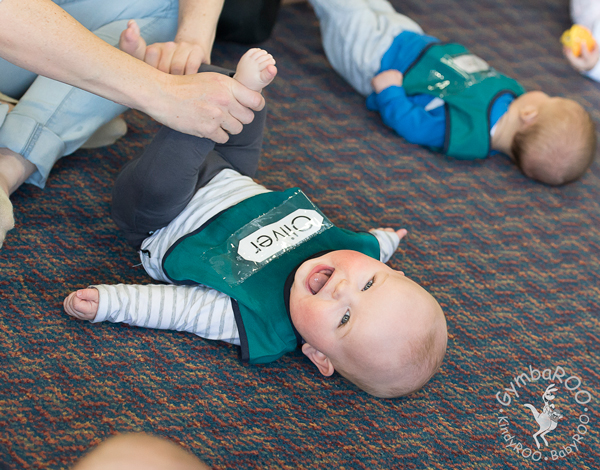 As you are among the hundreds of thousands of parents involved in our GymbaROO and KindyROO programs and/or our Active Babies Smart Kids online series of baby classes, you already have your children on the right track and are making an excellent start to setting them up for a lifetime of brain and body health and happiness. Keep doing what you are doing and repeat your GymbaROO-KindyROO activities at home on a daily basis.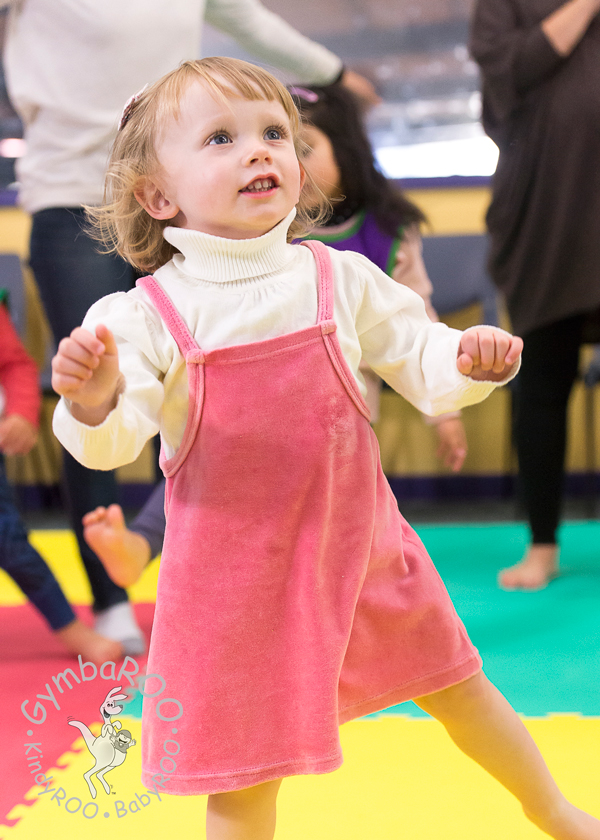 You also know firsthand, that our movement based programs provide the answer to making a start right now on reducing childhood obesity figures. You know that our GymbaROO programs:
Educate parents of children from birth to five years on the importance of early movement experiences to physical, cognitive and emotional health.
Inform parents as to what the correct movement experiences are for each age and stage of development.
Encourage the development of movement skills through fun and loving activities, stimulating intellectual, physical and emotional growth, and providing solid foundations for a future of learning.
Instil a love of movement into the lives of children, promoting happier, healthier lifestyles.
Encourage activity, movement and exercise as the habit, rather than inactivity.
Warn parents of the pitfalls associated with our modern parenting lifestyle and how to avoid them. For example; 'containerising' babies (placing them too often in capsules, baby seats, cots, walkers, play pens or bouncers etc); screen time;  'bubble-wrapping' children, etc.
You can help fight paediatric obesity by spreading the word about GymbaROO and KindyROO and encouraging your friends and relatives to get involved. We do understand that, for many reasons, not everyone can get to a GymbaROO-KindyROO centre, however you can help to get more and more babies off to the right start by informing anyone you know who is pregnant or who has a baby about our  Active Babies Smart Kids online series here. For those families with older children who cannot get to GymbaROO-KindyROO, show them the activities you do during class!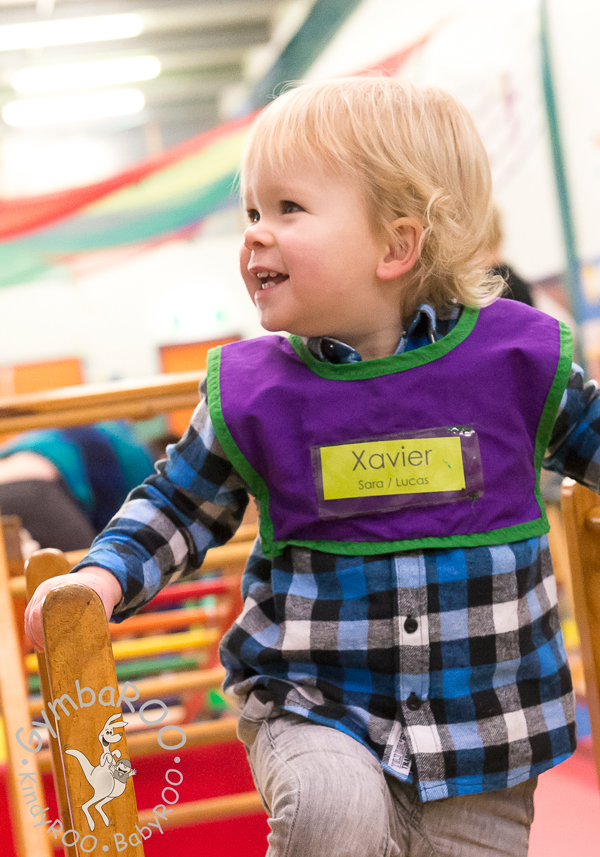 Together we can make a difference to childhood obesity rates. Together we can work to make Australia brighter, lighter, healthier and happier, one baby at a time.
Bindy Cummings (B.Ed hons) is a teacher and a GymbaROO early childhood neuro-developmental consultant. She is the Editor of GymbaROO's First Steps magazine, digital articles and media.
GymbaROO images by Studio Z Photography
Active Babies Smart Kids – Online Baby Classes
GymbaROO-KindyROO's online series of baby classes is taking the parenting world by storm! It is highly recommended by doctors, paediatricians, early childhood experts and the Maternal Child and Family Health Nurses Association. This series is being called: "The essential guide for parents". Join the thousands of parents already playing with their babies from birth, in the best way for brain and body development and laying crucial foundations for future learning. What happens in the first year, not only matters, it matters a lot!
Click here: Active Babies Smart Kids online series 
Try the first episode FREE: Tummy time + baby fun and development class 1
GymbaROO-KindyROO
Thousands of parents, babies and children are presently involved in our programs and creating rising stars. GymbaROO-KindyROO kids are excelling academically, emotionally, in leadership roles and on the sporting field. Come join all the fun and learning! "GymbaROO – The best decision I ever made for my child." Classes from 6 weeks old – 7 years GymbaROO KindyROO 
Enjoy the following GymbaROO-KindyROO articles
GymbaROO-KindyROO: Who, what, where, why and how
Why GymbaROO-KindyROO kids excel – academically, emotionally, socially, in leadership roles and in sport
How to raise a smarter, happier baby
How diet affects brain development.
Help children develop healthy eating habits from the start.
Sugar – as bad for the developing brain as extreme stress or abuse.
Your child's health: Soft drinks linked to cancer
NAPLAN results improve with LESS reading and maths and MORE GymbaROO.
Click here for more GymbaROO-KindyROO article choices
Save
Save
Save
Save
Save
Save
Save
Save
Save
Save
Save
Save
Save
Save
Save
Save
Save
Save
Save
Save
Save
Save
Save
Save
Save