Join the thousands of parents already raising smarter, happier babies with our online baby classes: The Active Babies Smart Kids series. Click here.
GymbaROO-KindyROO kids are excelling academically, emotionally, in leadership roles and on the sporting field. Find us at: GymbaROO-KindyROO
Nina Mitchell
I'm a mother, a qualified teacher, a sister, a daughter and a first time author. Oh, and I have depression. It's this last label that's the most difficult to wear. Although information about mental illness has become more readily available in the media, there still seems to be a veil of secrecy in the workplace and often at home.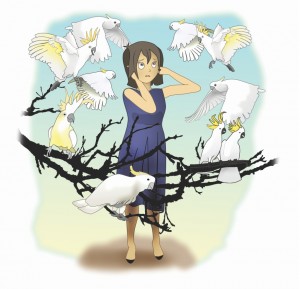 I've spent many weeks receiving treatment in a mental health hospital. I've seen many fellow patients from all walks of life receive assistance at the same time. While I was there, I learnt two important and surprising life lessons. Firstly, most fellow patients were scared to tell their colleagues, bosses and even their family, where they were.
Even more surprising to me was that most of the patients who were parents had not told their children why they were there. Depression does not need to be a big secret. It's an illness just like asthma or diabetes, totally out of our control and definitely not something to be ashamed of.
I've always talked about my depression with my three sons (now 17, 15 and 12). It's a journey that we've been on together. No topic has ever been off-limits to my boys, including the fact that I have a diagnosed mental illness. Depression has taken my job, messed with my confidence and altered my memory but there's no way that I'm going to let it take my family.
Children, even very young children, can sense when something's not quite right in the family. Sometimes they may even think that they are the source of the problem when they're not.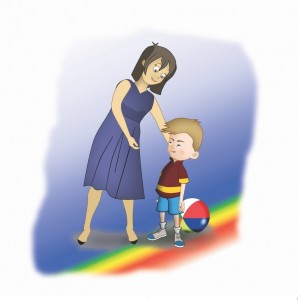 For me, the greatest relief I have received from my depression hasn't been the medication, the ECT or the therapy. It's been a silent hug or kiss from one of my sons. Without saying anything, they provide love, reassurance and the purpose and strength to make it through another day. That's the power of a child's love.
At times I've had difficulty trying to describe to my sons what my depression feels like. For example, today it feels like a large rock has landed on my chest and it's trying to push every last breath of air from my body. But I won't let it. My boys are now teenagers, so that's a metaphor that they can understand.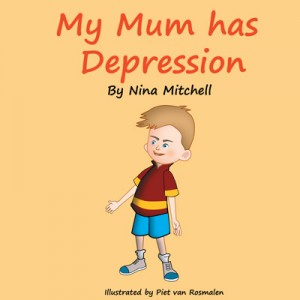 To help other parents, I've written a book called My Mum has Depression. My book uses metaphors to describe some of the feelings a parent may experience if they have depression. It's intended to be a conversation starter where adults can try and explore the symptoms of depression together with their children. Depression experienced by one member of a family can influence the dynamics of the whole household. Hopefully my book can help in some small way.
My Mum has Depression can be purchased from Nina's website for $15 plus $5 postage and handling.
GymbaROO-KindyROO
Thousands of parents, babies and children are presently involved in our programs and creating rising stars. GymbaROO-KindyROO kids are excelling academically, emotionally, in leadership roles and on the sporting field. Come join all the fun and learning! "GymbaROO – The best decision I ever made for my child." Classes from 6 weeks old – 7 years GymbaROO KindyROO 
Active Babies Smart Kids – Online Baby Classes
GymbaROO-KindyROO's online series of baby classes is taking the parenting world by storm! It is highly recommended by doctors, paediatricians, early childhood experts and the Maternal Child and Family Health Nurses Association. This series is being called: "The essential guide for parents". Join the thousands of parents already playing with their babies from birth, in the best way for brain and body development and laying crucial foundations for future learning. What happens in the first year, not only matters, it matters a lot!
Active Babies Smart Kids online series – Click here.
Try the first class FREE! Click here to watch our Active Babies Smart Kids Episode 1 – Tummy Time 
Enjoy the following GymbaROO-KindyROO articles
Understanding tantrums – it's all about the brain.
When will my baby / toddler become right or left handed?
GymbaROO-KindyROO: Who, what, where, why and how
Why GymbaROO-KindyROO kids excel – academically, emotionally, socially, in leadership roles and in sport
All about GymbaROO-KindyROO's online baby classes for parents and babies: Active Babies Smart Kids
How to raise a smarter, happier baby
Click here for more GymbaROO-KindyROO article choices
Save
Save
Save
Save
Save
Save
Save