Join the thousands of parents already raising smarter, happier babies with our online baby classes: The Active Babies Smart Kids series. Click here.
GymbaROO-KindyROO kids are excelling academically, emotionally, in leadership roles and on the sporting field. Find us at: GymbaROO-KindyROO
At GymbaROO-KindyROO we advise every family with young children to have a trapeze bar in their home. Hanging and swinging from a trapeze helps developing bodies and brains in countless ways and helps to ensure your little ones build the solid foundations needed for many for future fine and gross motor skills, including writing. You can read more about this here. This is also why at GymbaROO-KindyROO we encourage the use of the trapezes and monkey bars each lesson, once children are developmentally ready. Your GymbaROO-KindyROO instructor will help you to determine if your babies have reached the stage at which they can begin holding and hanging; (they must no longer display the grasp reflex; they must be co-contracting at the elbow and the shoulder; and they must be holding on themselves – never you holding your hands over theirs to keep them on). Once they are ready, hold firmly around the hip area and let the benefits begin!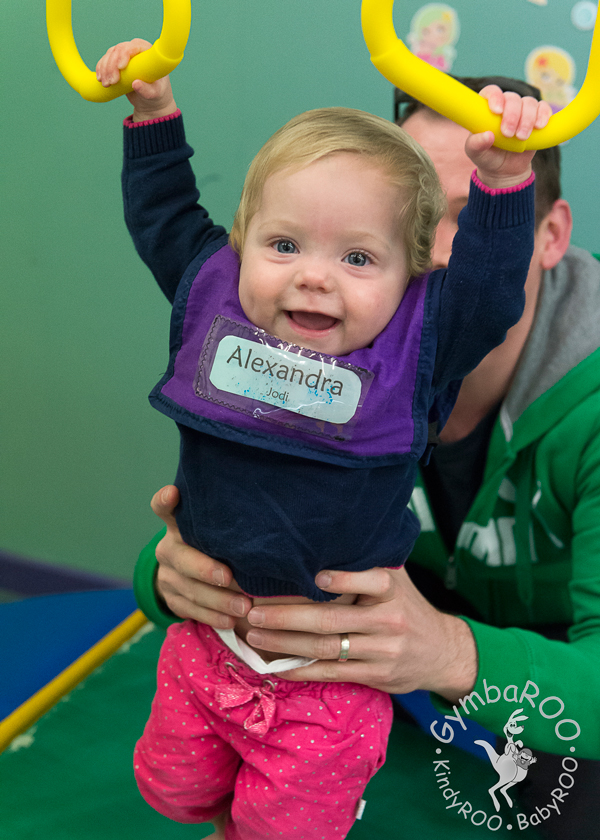 How to make your own trapeze bar at home and protect your bathroom towel rails!
You will need:
A wooden broom handle or piece of similar sized dowel
Some strong rope
A small saw
Some sand paper
An 8mm coach screw with eyelet end
A carabineer (medium size)
A drill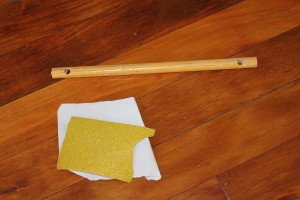 Cut a 42-45cm length off your broom handle, drill holes approximately 2.5-3cm from each end of this, large enough for your rope to pass through. Ensure that the holes match on each side. Carefully sand your wood to remove any splinters.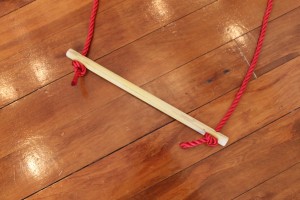 Cut a length of rope approximately 210-220cm, thread this through one hole and knot securely. Repeat on the other side. Locate a ceiling baton that provides a safe hanging space underneath with plenty of room for swinging, and screw the 8mm coach screw into the baton.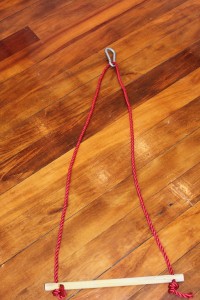 Thread and loop the rope through the carabineer. Fasten the carabineer onto the coach bolt ring. Ensure this can take the weight of the heaviest person in your family because the children won't be the only ones in your household who will be keen to try this out!! Place a rubber/foam mat under the area to protect falls and spills.
Be sure to hang your trapeze in a place that encourages usage. The ones I've seen most enjoyed and frequented have been hung in living areas inside the house. I've seen trapezes in kid's bedrooms, in living rooms and under stairwells. Just be sure that the space is one where children can safely hang, swing and spin, because they will! Outside is good too, as long as the trapeze is easily accessible and not down the bottom of the garden! We would happily encourage one inside and one outside if you can manage it.
GymbaROO-KindyROO
Thousands of parents, babies and children are presently involved in our programs and creating rising stars. GymbaROO-KindyROO kids are excelling academically, emotionally, in leadership roles and on the sporting field. Come join all the fun and learning! "GymbaROO – The best decision I ever made for my child." Classes from 6 weeks old – 7 years GymbaROO KindyROO 
Active Babies Smart Kids – Online Baby Classes
GymbaROO-KindyROO's online series of baby classes is taking the parenting world by storm! It is highly recommended by doctors, paediatricians, early childhood experts and the Maternal Child and Family Health Nurses Association. This series is being called: "The essential guide for parents". Join the thousands of parents already playing with their babies from birth, in the best way for brain and body development and laying crucial foundations for future learning. What happens in the first year, not only matters, it matters a lot! Introductory video below.
Active Babies Smart Kids online series – Click here.
Try the first class FREE! Click here to watch our Active Babies Smart Kids Episode 1 – Tummy Time 
Enjoy the following GymbaROO-KindyROO articles
GymbaROO-KindyROO: Who, what, where, why and how
Why GymbaROO-KindyROO kids excel – academically, emotionally, socially, in leadership roles and in sport
All about GymbaROO-KindyROO's online baby classes for parents and babies: Active Babies Smart Kids
How to raise a smarter, happier baby
Why active babies make smart kids
Become a GymbaROO-KindyROO franchisee
Finger Painting – A Brilliant Activity for Babies and Toddlers.
When will my baby / toddler become right or left handed?
Toilet training. When, why and how.
What babies really want: Developmentally brilliant gifts for babies.
To my elected childcare, preschool or school: Please include a GymbaROO sensorimotor program.
Why creeping and crawling matter.
Bilingual babies: Your baby's first year is the most important.
Click here for more GymbaROO-KindyROO article choices
Save
Save
Save
Save
Save
Save