Join the thousands of parents already raising smarter, happier babies with our online baby classes: The Active Babies Smart Kids series. Click here.
GymbaROO-KindyROO kids are excelling academically, emotionally, in leadership roles and on the sporting field. Find us at: GymbaROO-KindyROO
It is very exciting times for GymbaROO and KindyROO and also for parents of BabyROO babies and GymbaROO / KindyROO kids! More and more evidence is being documented confirming the long-term benefits of our programs. GymbaROO / KindyROO kids are excelling academically, emotionally and on the sporting field. School teachers are describing those who have been through our programs as having higher levels of concentration, better behaviour and being generally more socially mature and physically capable than their peers.
Enjoy more remarkable accounts of children who spent the first three or more years of their lives involved with BabyROO, GymbaROO or KindyROO. Their parents also reinforced our program at home by doing GymbaROO / KindyROO type activities with their children and integrating the information they had learned during their classes into their daily lives. We cannot emphasise enough, how much of a difference this can make to your child's future.
Lochlan

Current age: 13 years old
Started attending GymbaROO at 3 months
Number of years at GymbaROO: 5 years
Lochlan is, and has always been, in the top five percent of his class in every subject.  He is good at sport, he dances, sings, plays several instruments and is a state champion in poetry recitation. Lochlan is a professional actor and has representation in Australia and the United States. He has featured in over twenty films, television commercials and music videos.  He is healthy, fit, strong and extremely confident. The future seems endless and boundless for him.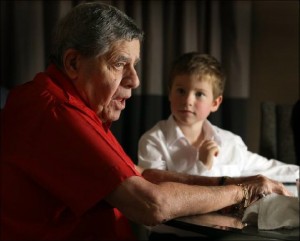 Lochlan has established an international charity with Jerry Lewis called the Jerry House Project. This charity uses humour therapy to assist and aid healing for sick and vulnerable children. Jerry is his hero; comedy is his oxygen.
Lochlan hasn't had an easy journey. Due to domestic violence, he and his mother moved to the country when he was six months old. To get to GymbaROO each week, they would drive an hour to the train station where Louise would load her bike onto the train. They would then travel one and a half hours into the city, change trains, travel another thirty minutes and then cycle fifteen minutes to GymbaROO.
Lochlan went through the devastating loss of a brother and sister and he and his mother moved back to the city to 'start again'. Before he had turned ten years old, Lochlan had become the loving foster brother to over eighty children, willingly giving up his room, his bed, his toys, even his mother's time to his foster brothers and sisters.  He knew how to bring joy to any moment and this became the focus of their happiness.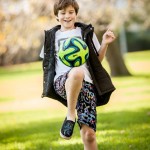 "This isn't just what makes him great to me. Lochie sees life with eyes and arms wide open. He's a really good person and now has a great future. I believe that knowing how to parent my child and giving him every opportunity, starting with GymbaROO, meant that there was a chance that he might just be OK – to see the world for its beauty and breath in every hope for his future. 
GymbaROO wasn't just a place for kids to play, or even just to learn, it was what saved me as a mother. I didn't feel helpless or alone anymore or confused as to what to do as my child grew and changed, I had GymbaROO.  As a single mother, it especially meant so much to me that the people there cared about what I learned and what I knew regarding how to be the best mum I could be. I did this on a single parent's pension. I put this first. I will never be able to express my gratitude for what Mari-Ann and Mitcham GymbaROO did for me and for my son.  It was simply the most important decision I ever made for the health, development and wellbeing of my child.  GymbaROO should be in every state and country, a mandatory approach to bringing up children.  We owe it to our children to give them the best start – and this is it. Thank you GymbaROO." Louise – mum.
Charlotte

Current age: 17 years old
Started attending GymbaROO at 6 weeks
Number of years at GymbaROO: 5 years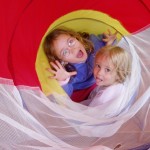 Charlotte began GymbaROO at the age of six weeks. She is currently in Year 12 and an absolute all-rounder. Throughout her early high schooling she received many academic prizes, was awarded the Middle School Sports Girl of the Year in 2011 and the Head of School Award in 2011 and 2012.
Her extraordinary list of achievements continued in Senior School, with awards for Chinese, Science, Mathematics, History, PDHPE, Music, Technological and Applied Studies, Music, English and Drama, as well as the Principal's Prize for Academic Excellence in 2013 and 2014. She played the lead role in the school play in 2013 and this year she is a Senior School Prefect and the Captain of Debating.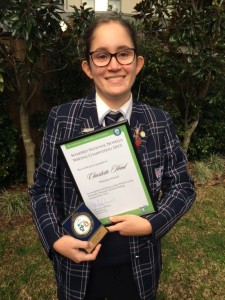 Charlotte is a budding writer. In Year 7, she won second prize in a prestigious short story contest and in 2012 her poem won the national RiAus Sci-Ku competition. In 2015, her story was the NSW state winning entry of the Somerset National Novella Writing competition and she received the North Sydney Nan Manefield Young Writers Award.
Sport has always featured in Charlotte's life. She has been in her school teams for netball, touch football, water polo and athletics.  She plays club soccer and is learning Bujutsu. She has been awarded many accolades in sport over the years.
Charlotte is very community minded and has spent much time working with community programs. She has been involved in the Duke of Edinburgh Award and various Service Learning Programs. Other activities have included being a delegate in the Model United Nations and participating in the Festival of Speech, Da Vinci Decathlon and Mock Trials.
"Charlotte could be described as a high achiever, however it is her willingness to give things a go, to not be categorised and always do her best that has seen her succeed. I'm convinced it all started with GymbaROO and since then she has never looked back!" Rebecca – mum
GymbaROO-KindyROO
Thousands of parents, babies and children are presently involved in our programs and creating rising stars. GymbaROO-KindyROO kids are excelling academically, emotionally, in leadership roles and on the sporting field. Come join all the fun and learning! "GymbaROO – The best decision I ever made for my child." Classes from 6 weeks old – 7 years GymbaROO KindyROO 
Active Babies Smart Kids – Online Baby Classes
GymbaROO-KindyROO's online series of baby classes is taking the parenting world by storm! It is highly recommended by doctors, paediatricians, early childhood experts and the Maternal Child and Family Health Nurses Association. This series is being called: "The essential guide for parents". Join the thousands of parents already playing with their babies from birth, in the best way for brain and body development and laying crucial foundations for future learning. What happens in the first year, not only matters, it matters a lot! See Introductory video below.
Active Babies Smart Kids online series – Click here.
Try the first class FREE! Click here to watch our Active Babies Smart Kids Episode 1 – Tummy Time 
Enjoy the following GymbaROO-KindyROO articles
GymbaROO-KindyROO: Who, what, where, why and how
Why GymbaROO-KindyROO kids excel – academically, emotionally, socially, in leadership roles and in sport
All about GymbaROO-KindyROO's online baby classes for parents and babies: Active Babies Smart Kids
How to raise a smarter, happier baby
Why active babies make smart kids
Become a GymbaROO-KindyROO franchisee
Kids learning ability jumps 2 years with 25 minute GymbaROO movement program 3x a week.
NAPLAN results improve in Primary school with LESS reading and maths and MORE GymbaROO
GymbaROO and you, creating rising stars (1)
GymbaROO and you, creating rising stars (2)
Seven Primary School Captains in 2016 from one GymbaROO babies class in 2005.
10 ways to give your baby a great start.
Recent research demonstrates the importance of early movement experiences to academic achievement.
He May Not 'Grow Out of It'. A Checklist for Parents of 0 – 5 Year Olds.
Understanding tantrums – it's all about the brain.
When will my baby / toddler become right or left handed?
Click here for more GymbaROO-KindyROO article choices
Save
Save
Save
Save
Save