Join the thousands of parents already raising smarter, happier babies with our online baby classes: The Active Babies Smart Kids series. Click here.
GymbaROO-KindyROO kids are excelling academically, emotionally, in leadership roles and on the sporting field. Find us at: GymbaROO-KindyROO
Activities for dads and babies
We have been so completely delighted at the response we have received from dads telling us how GymbaROO-KindyROO's online Active Babies Smart Kids series has been helping them understand how to help their babies' brain and body development, how confident they have become playing with their babies and the flow-on effect of the lovely bonding that has resulted.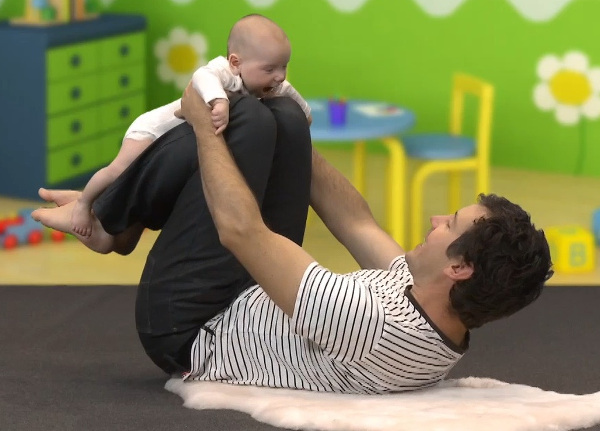 "I had no idea how important the first year was to my baby's development. I had even less idea how much I could contribute simply by playing with her in these ways and doing such fun activities! Knowing what I am doing and why to do it has been the best. I was all fingers and thumbs at first, but got the hang of it pretty quickly! My baby daughter and I love the Active Babies Smart Kids videos. I really look forward to our playtime together and all the smiles and giggles, not just from her, but from me too. Thank you GymbaROO." David
Below are 3 great activities for dad and baby. Our online series of baby classes has hundreds more. Click here to access the series.
Learning must be fun! If your baby is not enjoying an activity, stop and come back to it another time. Before you begin any of our activities please read here: Before you Start
Bonding Activity 1
The Scrubbing Song is a gorgeous hand and foot play; wonderful for body awareness, tactility, bonding and fun.
Dads are often unable to get to GymbaROO-KindyROO sessions at our centers. One of the main reasons we created the online series was so that the information, ideas and all the fun and games could be shared with those who are helping to care for babies, yet are unable to attend classes.
"What I love about the online series is that I am able to share them with my hubby who is not able to attend our BabyROO sessions as he is working. Since he loves taking care of our little one whenever he has a spare second, he always refers to the videos so that he has 'quality time' with him. Our favourite is the musical one since we have many instruments around the house." Parent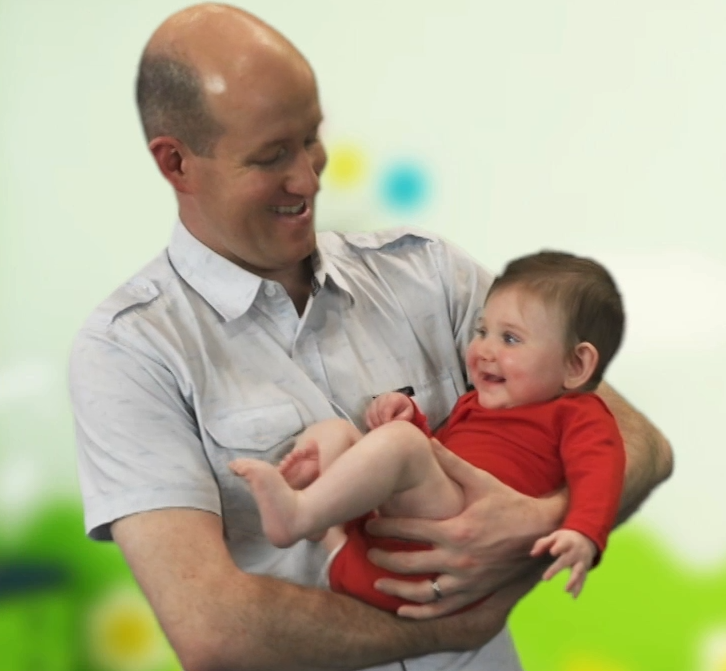 "I love that we can do the activities with Dad after hours."  Parent
Bonding Activity 2
I'm a Little Aeroplane. This exercise is fabulous for muscle strengthening, vision and balance development, bonding and fun. Babies must be strong enough to be able to hold their heads up by themselves for this activity.
The lack of resources for fathers and the shortage of dad related information available has been a frustrating problem in the past. Many dads want to be as actively involved in baby rearing as their time will allow. We are not just talking about changing nappies, dressing, bathing and so on, all of which are in themselves greatly important and rich experiences, we are also talking about being actively involved in introducing the correct movement experiences into their baby's daily life and thus helping to have a profound influence on their baby's brain growth, neurological organisation and future learning ability.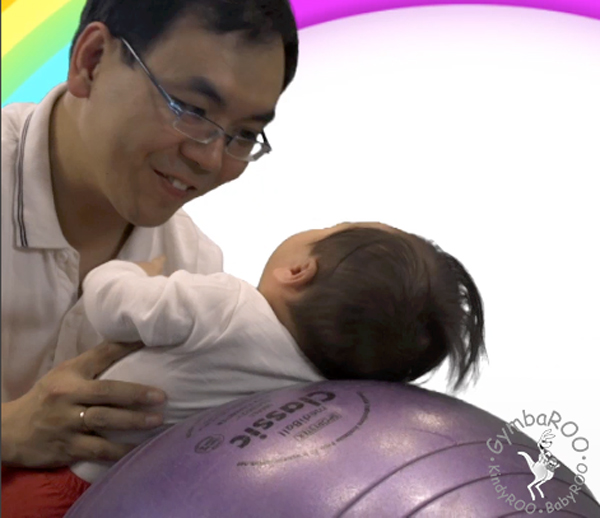 As both a doctor and a dad, I know exactly how a new dad feels when it comes to handling a tiny new baby. It can be quite daunting, especially with your first child. For many of us, this may be our first time ever even holding a newborn, so it's little wonder that many of us feel unsure what to do. I highly recommend the Active Babies Smart Kids online series. It's an excellent resource for dads (and mums) to learn about babies and development. It provides great ideas and advice on how to help babies grow and develop through fun movement, music and play. Dr M. Bayfield MBBS FRACS
Dads parent differently to mums and this is more than OK, it's actually a good thing. Dads provide a wealth of important experiences and opportunities for their babies. Dads feel, smell and sound different to mum. They also care, nurture and play differently. All of this provides babies and growing children with a greater variety of sensory experiences. According to research, the more involved the father, the healthier the child's development socially, emotionally and cognitively. Read more here.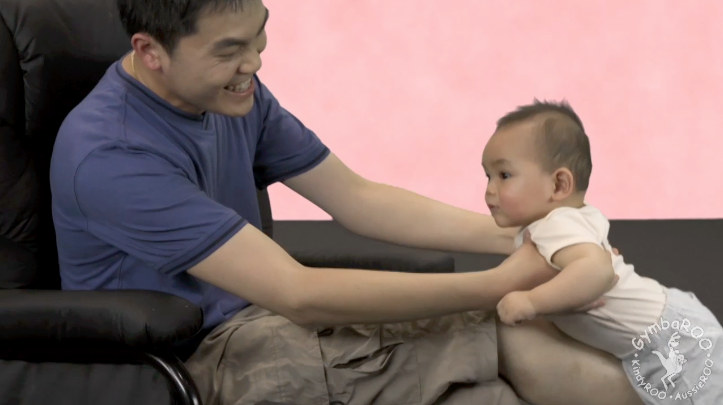 Fitting quality playtime around work and a busy life can be difficult. Learning to care for babies and assist their development takes time, but this is time very well spent. Educated parents make more confident parents.  The more quality time dads spend with their babies the more over all joy and the closer the resulting bonding. Babies generally develop a great love of playtime with dad. It works on so many levels for everyone involved when dads are confident, capable and involved in baby rearing.
"The BabyROO sessions on video allow my little man to have meaningful play time with his hard working dad. I can see their relationship and bond growing with each video! Best thing we ever decided to do for our son as a family!" Parent
"We love watching GymbaROO videos and learning to do it all with our sweet girl. Great fun and easy to do. Thank you GymbaROO! It is the best activity for new parents like us to do with our baby." Greg
Bonding Activity 3
Here is a lovely baby massage for dad to do with baby, including massage techniques. Baby massage is excellent for so many areas of baby development, including brain growth. Massage is a wonderful way for dad to bond with baby.
The Active Babies Smart Kids series comes highly recommended by paediatricians, doctors, early childhood experts and the Maternal Child and Family Health Nurses Association and we are thrilled that there are thousands of mums, dads and babies enjoying and benefiting from the series.
"I love that we are on the right track." Steven
Active Babies Smart Kids – Online Baby Classes
GymbaROO-KindyROO's online series of baby classes is taking the parenting world by storm! It is highly recommended by doctors, paediatricians, early childhood experts and the Maternal Child and Family Health Nurses Association. This series is being called: "The essential guide for parents". Join the thousands of parents already playing with their babies from birth, in the best way for brain and body development and laying crucial foundations for future learning. What happens in the first year, not only matters, it matters a lot! See Introductory video below.
Active Babies Smart Kids online series – Click here.
Try the first class FREE! Click here to watch our Active Babies Smart Kids Episode 1 – Tummy Time 
GymbaROO-KindyROO
Thousands of parents, babies and children are presently involved in our programs and creating rising stars. GymbaROO-KindyROO kids are excelling academically, emotionally, in leadership roles and on the sporting field. Come join all the fun and learning! "GymbaROO – The best decision I ever made for my child." Classes from 6 weeks old – 7 years GymbaROO KindyROO 
Enjoy the following GymbaROO-KindyROO articles
GymbaROO-KindyROO: Who, what, where, why and how
Why GymbaROO-KindyROO kids excel – academically, emotionally, socially, in leadership roles and in sport
All about GymbaROO-KindyROO's online baby classes for parents and babies: Active Babies Smart Kids
How to raise a smarter, happier baby
Why active babies make smart kids
Become a GymbaROO-KindyROO franchisee
It takes only one hour during pregnancy to make a massive difference to your baby's future intelligence and happiness
Dads make a difference. The important role fathers play in baby and child development.
Why GymbaROO kids excel at sport.
Click here for more GymbaROO-KindyROO article choices
Save
Save
Save
Save
Save
Save
Save
Save
Save
Save
Save
Save
Save
Save
Save
Save
Save