Join the thousands of parents already raising smarter, happier babies with our online baby classes: The Active Babies Smart Kids series. Click here.
GymbaROO-KindyROO kids are excelling academically, emotionally, in leadership roles and on the sporting field. Find us at: GymbaROO-KindyROO
Before technology, as we left for our annual summer holiday at the beach, my parents would pump petrol at the local service station and pick up Spotto cards for the trip. My mother was always the instigator of a number of car-trip games that relieved the boredom, distracted us when wars over seat space began, or the question most guaranteed to annoy my father was asked: "When will we be there?"
It is now very easy whilst travelling, to switch on a screen or allow children to use hand-held devices, but why not take the opportunity to build connections and have some fun as a family. I've travelled with kids and grandkids and have experienced my share of travel angst, so here are some games and ideas that have worked for me.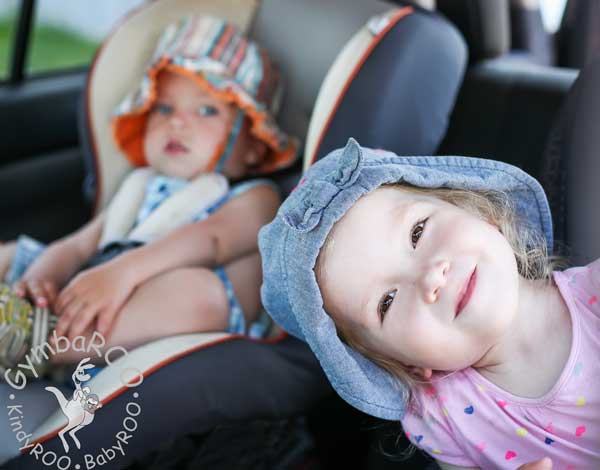 Spotto
Spotto is my favourite. Each player has a Spotto sheet that can be clipped to an A5 clipboard, or laminated. You create your own cards using pictures cut from newspapers or magazines and pasted on card or download a printable from the sites listed at the end of this article.
If you create your own cards you can adapt the game by using pictures that are more suitable for your children's ages. You can also adjust the number of items or the types of objects they will see on the way. When a player sees an item on their card they call out "Spotto," and the name of the item e.g. "Spotto cow". They can then cross the item off. Each item that is 'spottoed' can only be used once. The winner is the one who crosses off all items on their sheet first.
Photo Sparks
Build on your children's creativity by using a picture or postcard for inspiration to begin a story. You can use story starters such as the tried and true, 'Once upon a time…' or make up your own. "I looked out the car window and saw…", "The cow looked up and …", "Yay! It was a…" Take it in turns to add a sentence or a section. Younger children can give you ideas about what you can include in the story. For example, "I'd like you to add in gumboots."
While you can cut a photo from a magazine or buy a postcard from a journey stop, there are many websites that also offer amazing images that could be printed before travelling.
Twisted fairy tales
Another variation of storytelling is to adapt well-known stories, not necessarily fairy tales, by replacing the main character's name with your child's name. My grandson's favourite is Jack and the Beanstalk. He loves to hear about how he climbed the beanstalk and had amazing adventures that often include his kinder friends and the occasional piece of GymbaROO equipment to help his escape. This activity is great for buying time when you still have 15 minutes until you arrive at your destination.
Snap-lock peace and quiet
A good friend introduced me to the Every-Hour-Snaplock-Bag when my small children were on a trip to Queensland. As we prepared to leave, she handed me a bag for each hour of the road trip with a variety of items from dollar stores to keep the children occupied for about 20 minutes. These included:
Some stickers with one or two A5 firm pieces of card to create a picture.
Small colouring books with mini crayons etc.
Two or three small cars.
A small bagful of LEGO. My children were past the choking hazard stage, but there are many similar construction toys that can be played in a small space or on a travel tray.
A small magnetised travelling game.
Free colouring printables.
Every hour along the journey I would produce a new activity bag from my travel bag. An alternative is to have these packed in the child's travel bag and they can decide what to do next.
Small travel games
There are many board games that have been shrunk to travel size and are perfect for travelling in trains and particularly, planes. They can be found in toy and games stores and include UNO, Yahtzee and Connect 4. Many are magnetised which minimises the chance of losing pieces.
I think…
There are many variations of this game. My favourite is when each player chooses a car colour and decides how many cars of that colour they will see before a pre-determined spot on your trip. Keep the number within the counting range of your child. "I think I will see three blue cars before we get to the park and climb the rocket ship".
Paper airplanes
Making paper planes that you can test at road stops or parks is another suggestion. You could begin with a simple dart design, and encourage your children to develop their design skills and learn about aerodynamics.
Keep your eye out, you never know where you might find something useful – I discovered in a local bookshop a set of wipe-clean activity cards, easily packable in my handbag, just before we boarded a plane for a family trip, travelling with four children and three grandchildren! These kept everyone occupied. Today there is a plethora of websites that have suggestions for car, train and plane games. Many have free printables.
There are so many resources available to make travel time the opportunity to develop creativity, spark imagination and keep kids entertained that I would encourage you to lock technology in the boot with the suitcases and enjoy the journey.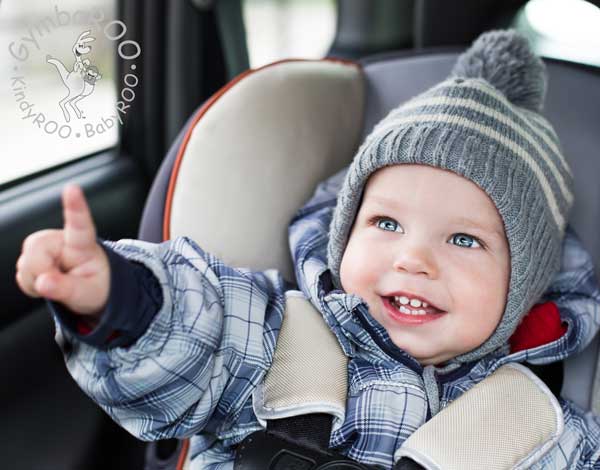 Dr Robyn Floyd (PhD, MEd, Spec. Cert. Leadership in Assessment): Assistant Principal – Specialist Curriculum Writer 
Resources
Images: One of my favourites is the Literacy Shed with images collected by a primary school teacher over 10 years. http://www.literacyshed.com/the-images-shed.html
GymbaROO-KindyROO
Thousands of parents, babies and children are presently involved in our programs and creating rising stars. GymbaROO-KindyROO kids are excelling academically, emotionally, in leadership roles and on the sporting field. Come join all the fun and learning! "GymbaROO – The best decision I ever made for my child." Classes from 6 weeks old – 7 years GymbaROO KindyROO 
Active Babies Smart Kids – Online Baby Classes
GymbaROO-KindyROO's online series of baby classes is taking the parenting world by storm! It is highly recommended by doctors, paediatricians, early childhood experts and the Maternal Child and Family Health Nurses Association. This series is being called: "The essential guide for parents". Join the thousands of parents already playing with their babies from birth, in the best way for brain and body development and laying crucial foundations for future learning. What happens in the first year, not only matters, it matters a lot! Enjoy the introductory video below.
Click here: Active Babies Smart Kids online series of baby classes 
Try the first episode FREE: Tummy time + baby fun and development class 1
Enjoy the following GymbaROO-KindyROO articles
GymbaROO-KindyROO: Who, what, where, why and how
Why GymbaROO-KindyROO kids excel – academically, emotionally, socially, in leadership roles and in sport
All about GymbaROO-KindyROO's online baby classes for parents and babies: Active Babies Smart Kids
How to raise a smarter, happier baby
Encouraging conversation – so important to development. Why and how.
Storytelling – More than just telling a story.
How and why to encourage your child to be a STEM thinker.
Babies and children need to swing. Why, how, when and when not to swing.
NAPLAN results improve with LESS reading and maths and MORE GymbaROO.
Becoming a GymbaROO franchisee