Join the thousands of parents already raising smarter, happier babies with our online baby classes: The Active Babies Smart Kids series. Click here.
GymbaROO-KindyROO kids are excelling academically, emotionally, in leadership roles and on the sporting field. Find us at: GymbaROO-KindyROO
Dr Jane Williams and Bindy Cummings
How well your babies and growing children learn to develop their vision is going to affect their entire development, including how well they are able to learn now and later while attending school.
Children are not born with the visual skills they need for learning. These skills need to develop over the earliest years of life.
It is important to understand the difference between sight and vision. Sight is the eye's basic response to light, while vision is a learned process from which emerges an understanding of what is seen, where it is and how to react. Vision is a cognitive act as the brain learns what it is seeing, stores the memory and sends out messages to respond accordingly.
There is a very close relationship between how children's visual skills develop and their movement experiences.  In fact, the latest research tells us that without active movement, vision develops poorly. Babies' and young childrens' vision improve as they actively move, act on, explore and manipulate, see, describe and make use of what is in their world.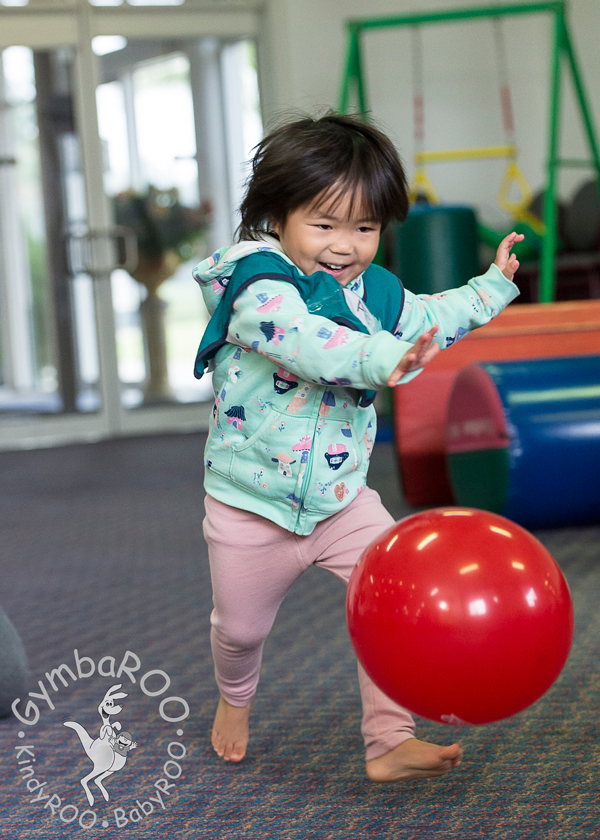 Vision: a hands-on process
Visual learning involves the eyes, hands and the whole body, as the child learns to coordinate all parts to work as a 'team', to gather and process data through sight, feel and location, and to store the information for later use as patterns for muscle response and action.
As children develop and use their bodies, hands, eyes, ears and speech, in increasingly complex ways, these abilities become avenues for learning. Babies learn to 'see' through their hands every time they feel, bang and mouth an object. They also learn to 'see' through their feet – the smooth floor, the rough carpet, the prickly grass all helps to develop their visual skills. As motor abilities increase, babies are learning more about the world around them, integrating their body motion with vision. As babies crawl around the room and then toddle around the house they are visualising the world around – computing visual images for future reference.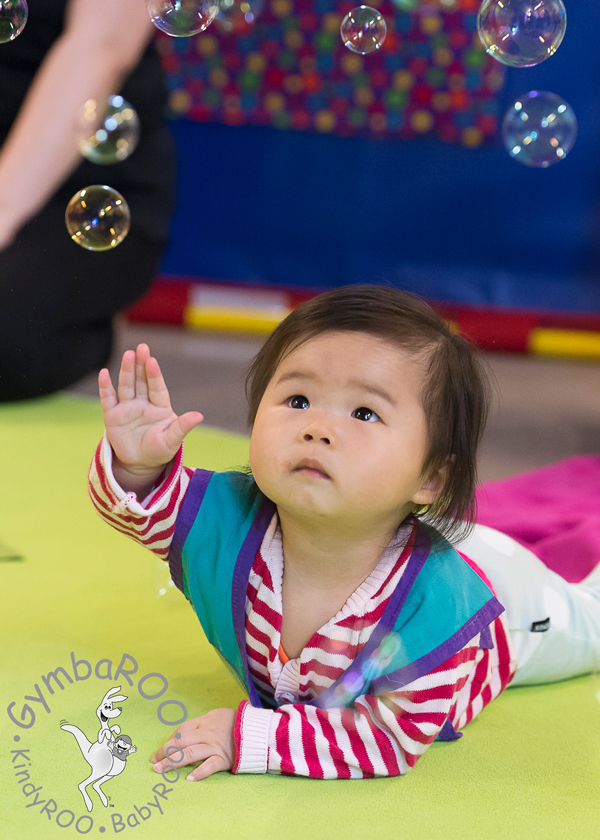 What you can do
Babies
At birth babies have sight, but no vision.  They will seek out visual experiences and there are many ways you can provide these for them:
Click here to access GymbaROO's online BabyROO video: Your baby's vision development with loads of tips and ideas for appropriate visual development activities for babies.
Crawling – 18 months
Once your baby is crawling, offer a bright coloured object in the near distance to encourage development of depth perception, time and distance, and visual attention.
Play 'Peek-a-Boo' to develop eye fixation.
Develop visual memory by playing 'Hide and Seek' with toys. First, let your baby see you put a toy under the scarf/towel and see if they can find it!
Roll large balls and toss balloons. Encourage hitting balloons for eye-hand coordination.
Hang a mobile or ball from the ceiling for your baby to track and follow with his eyes or hit with his hand or foot.
Let your toddler explore your pots and pans cupboard – it's a goldmine for fun and learning about shapes, sizes and sounds.
2 ­– 3 years
For early naming skills, identify objects, for example; parts of a doll, car, dog, table, girl, boy etc. You can use a book with pictures or simply play this game as you are walking about.
Match colours.
Catch and throw large balls and balloons, progressing to smaller balls.
Grasp small objects.
Scribble on a blackboard or whiteboard. Trace over and copy basic shapes such as squares, circles, stars and triangles.
Encourage visual thinking:'What's missing?' for memory; 'Match shapes' for visual discrimination; 'Find the same one' for figure-ground differentiation.
3 – 5 years
Identify the same things in pictures.
Identify differences in pictures.
Identify the longer line.
Name primary and secondary colours.
Play games that involve understanding numbers.
Copy a cross, square, circle, union jack.
Stack blocks.
Construct Lego.
To develop visual thinking, describe a picture.
To develop visual attention, 'Dot to Dot' and colour in.
Draw and trace on a chalkboard.
To develop handwriting as well as writing skills, start a diary.
See also in this newsletter: Watch out! Screens and your child's eyes
Dr Jane Williams, (PhD, RNPaeds) is Director and General Manager of Research & Education, Toddler Kindy GymbaROO & KindyROO, and Adjunct Senior Lecturer, Discipline of Nursing, Nutrition and Midwifery, James Cook University .More on Dr Jane Williams here.
Bindy Cummings (B.Ed(Human Movement) Hons) has worked as a teacher, child development consultant, early childhood development lecturer, teacher trainer and INPP & iLS consultant. She is the co-creator of GymbaROO's Active Babies Smart Kids online series, has authored many published articles on child development. She is working on the content and development GymbaROO's portal and online training programs, and the creation of new online programs for parents and children. More on Bindy Cummings here.
GymbaROO Images by Studio Z Photography
GymbaROO-KindyROO
Thousands of parents, babies and children are presently involved in our programs and creating rising stars. GymbaROO-KindyROO kids are excelling academically, emotionally, in leadership roles and on the sporting field. Come join all the fun and learning! "GymbaROO – The best decision I ever made for my child." Classes from 6 weeks old – 7 years GymbaROO KindyROO 
Active Babies Smart Kids – Online Baby Classes
GymbaROO-KindyROO's online series of baby classes is taking the parenting world by storm! It is highly recommended by doctors, paediatricians, early childhood experts and the Maternal Child and Family Health Nurses Association. This series is being called: "The essential guide for parents". Join the thousands of parents already playing with their babies from birth, in the best way for brain and body development and laying crucial foundations for future learning. What happens in the first year, not only matters, it matters a lot! Enjoy the introductory video below.
Click here: Active Babies Smart Kids online series of baby classes 
Try the first episode FREE: Tummy time + baby fun and development class 1
Enjoy the following GymbaROO-KindyROO articles
GymbaROO-KindyROO: Who, what, where, why and how
Why GymbaROO-KindyROO kids excel – academically, emotionally, socially, in leadership roles and in sport
All about GymbaROO-KindyROO's online baby classes for parents and babies: Active Babies Smart Kids
How to raise a smarter, happier baby
Watch out! Screens and your child's eyes.
The skills needed for writing begin in infancy. What parents can do.
He May Not 'Grow Out of It'. A Checklist for Parents of 0 – 5 Year Olds.