Join the thousands of parents already raising smarter, happier babies with our online baby classes: The Active Babies Smart Kids series. Click here.
GymbaROO-KindyROO kids are excelling academically, emotionally, in leadership roles and on the sporting field. Find us at: GymbaROO-KindyROO
Dr Jane Williams and Bindy Cummings
A study published recently in the Australian New Zealand Journal of Psychiatry has found that one in ten New South Wales five-year-olds show early warning signs of mental illness.
From the 67,353 children surveyed, 78% were identified as having 'no risk', however just over 10% were identified as being at 'high risk' of developing a mental illness later in life.
Lead author Associate Professor Melissa Green, from UNSW's School of Psychiatry, reported  that high-risk children could most likely be "easily identified" in the classroom.
"Those are the [children whom] teachers say are the troublemakers and the parents say they can't control them," she said.
Green also pointed out that not every child identified as 'high risk' would necessarily develop a mental disorder.
The researchers said the findings highlighted the need for targeted early intervention strategies to better support children, their families and teachers much earlier, before actual symptoms emerge.
The first five years is the key to prevention
There is now an enormous amount of research material that confirms that the experiences a child has in the first five years of life will determine how well she/he thinks and learns, how easily emotions can be controlled, and how well a child will do in life. School teachers constantly remark on 
the capabilities of GymbaROO students, sports coaches admire their team spirit and the best outcome of all, children feel positive about
 themselves because they are successful at school, in sports or what ever
 activities they are involved in. They love life, they love school and they
 love to try new and exciting challenges! What more could you want for your
 child? The GymbaROO program is a 'one stop shop' that 
ensures children will develop to their very best physically, academically, emotionally and socially.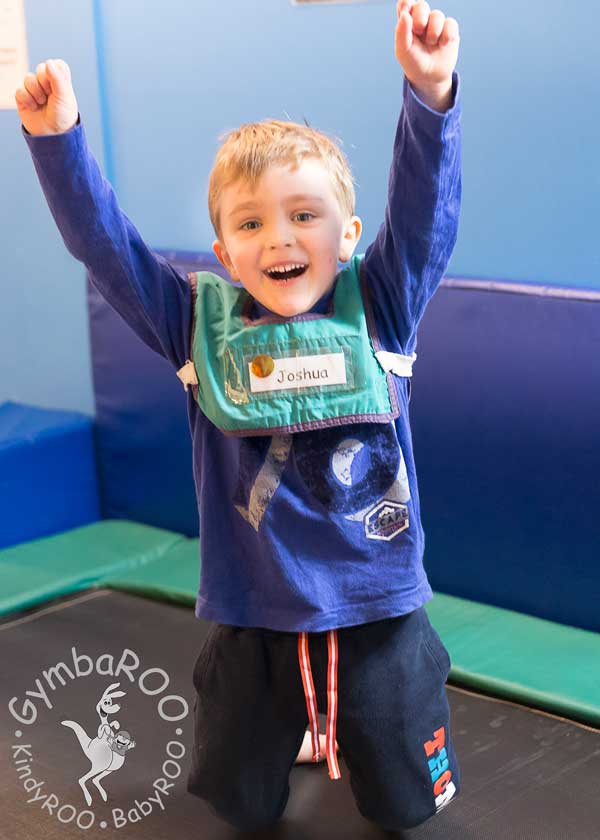 We are very proud of our GymbaROO program and work hard to ensure it 
is the best program it can possibly be for you and your child. Of course, developing a child's neurological capacity and maturity is not an over night 
journey. It takes time and that's why our program is from birth to five years.
 Each stage of development requires specific foundational skills to be firmly 
in place before your little ones can achieve the next higher skill. It's only in 
this way that those foundations for learning and life are solidly established. We
 also know how important repetition is to learning, and that's
 why we ask that you have fun with GymbaROO's great songs and games every day at 
home. It's what you do every day that really builds the brain 
function that creates the foundation for all learning and gives your child the very best start in life.
Dr Jane Williams (PhD, BMgt, RN(Paeds)) is the Research and Education General Manager for GymbaROO and KindyROO. Dr Williams is one of Australia's leading experts on baby and child development. More on Dr Williams here.
Bindy Cummings (B.Ed(Human Movement) Hons) has worked as a teacher, child development consultant, early childhood development lecturer, teacher trainer and INPP & iLS consultant. She is the co-creator of GymbaROO's Active Babies Smart Kids online series, has authored many published articles on child development. She is working on the content and development GymbaROO's portal and online training programs, and the creation of new online programs for parents and children. 
GymbaROO Images by Studio Z Photography
GymbaROO-KindyROO
Thousands of parents, babies and children are presently involved in our programs and creating rising stars. GymbaROO-KindyROO kids are excelling academically, emotionally, in leadership roles and on the sporting field. Come join all the fun and learning! "GymbaROO – The best decision I ever made for my child." Classes from 6 weeks old – 7 years GymbaROO KindyROO 
Active Babies Smart Kids – Online Baby Classes
GymbaROO-KindyROO's online series of baby classes is taking the parenting world by storm! It is highly recommended by doctors, paediatricians, early childhood experts and the Maternal Child and Family Health Nurses Association. This series is being called: "The essential guide for parents". Join the thousands of parents already playing with their babies from birth, in the best way for brain and body development and laying crucial foundations for future learning. What happens in the first year, not only matters, it matters a lot! Enjoy the introductory video below.
Click here: Active Babies Smart Kids online series of baby classes 
Try the first episode FREE: Tummy time + baby fun and development class 1
Enjoy the following GymbaROO-KindyROO articles
GymbaROO-KindyROO: Who, what, where, why and how
Why GymbaROO-KindyROO kids excel – academically, emotionally, socially, in leadership roles and in sport
All about GymbaROO-KindyROO's online baby classes for parents and babies: Active Babies Smart Kids
How to raise a smarter, happier baby
Kids learning ability jumps 2 years with 25 minute GymbaROO movement program 3x a week.
To my elected childcare, preschool or school: Please include a GymbaROO sensorimotor program.